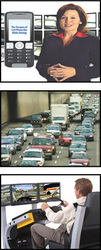 You can't claim ignorance
New Orleans, LA (PRWEB) July 2, 2008
You wouldn't allow an employee to drive while drunk. But what about making a cell phone call while driving?
Recent research suggests that using a cell phone while driving may be just as dangerous as driving while intoxicated---and it can cost a company millions if found liable. Recent cases abound, including one in which a jury awarded $21 million to a person injured in an accident with an employee of a major firm. The employee was on a cell phone at the time of the accident.
Limiting liability while increasing public safety is the focus of "The Dangers of Cell Phone Use While Driving: Developing Safe Practices and Corporate Guidelines," a new video and web based training program from New Orleans-based Moxie Media, Inc., a leading producer and publisher of safety, health, and security training materials for business and industry worldwide.
"Cell phone use while driving will be a hot safety issue for the next few years," says Martin Glenday, President of Moxie Media. "Our clients are asking for training materials that outline the risks and show what to do about them."
Moxie's program includes the latest research on the hazards posed by cell phone use while driving, descriptions of landmark court cases and guidance on developing and implementing company policies. The program is available in DVD, CD-ROM and Web-based formats and includes a printed training manual, a sample company policy based on best practices and an employee completion certificate.
"It's a single program for both employers and employees, a one-stop solution" Glenday says. "It advises the executive, legal, safety or human resource staff in developing a sound policy, and shows employees why the policy needs to be followed."
Glenday points to several reasons why cell phone use while driving is at the top of the risk management agenda for companies today. First, court cases have established an expansive field of liability for companies. "You can be talking with a co-worker or a client on a weekend, even about a purely personal matter and the company is still liable," he says. Companies may also be liable for accidents that occur when employees are on the phone with family members or friends, if they are using a company-issued phone or a company car. "If there's a way to make the company liable, plaintiffs' attorneys will find a way to do it, and so far, the courts have sided with them."
Second, extensive research about the dangers of cell phone use while driving is now part of the public domain. "You can't claim ignorance," Glenday says. "The research is compelling and it's been widely reported. If you are an employer you need to take action."
Research also shows that laws that ban the use of hand-held phones, but allow the use of hands-free devices don't go far enough. "The problem is not that your hands are occupied, it is that your brain is seriously distracted. And that's true no matter what kind of device you are using."
Corporate giants are quickly adopting policies that instruct employees not to use cell phones while driving. "ExxonMobil, UPS … the big boys are taking the right steps." But smaller companies are at greater risk. "A multi-million dollar judgment will put some folks out of business--all due to a single car accident."
Glenday adds that a cell phone policy should not compromise productivity. "If you park your car before calling a client, you can give that client your full attention," he says. "When you're making the call while dodging traffic, you're not at your best, as a driver or as an employee serving a client."
Employers interested in developing a policy, training employees, or simply getting the facts on the risks posed by cell phone use while driving, should visit the Cell Phone Use While Driving Company Resource Site at http://www.moxietraining.com/cell_phone/.
###