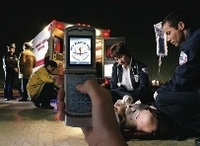 If you own a cell phone, you should have ESP on it; help me help you when you need me most.
Marina Del Rey, CA (PRWEB) August 31, 2007
MyRapidMD™ Corp, a developer of meaningful personal mobile content, today announced the release of Emergency Service Profile (ESP) v2 for cell phones.
The official launch is to be held at Disneyland's Health & Fitness Expo in Anaheim California during Labor Day weekend.
"With the family in mind we couldn't think of a better place to launch MyRapidMD's ESP mobile software application than at a venue that is considered both the happiest place on earth and the family capital of the world" said Mark White founder and President.
MyRapidMD's ESP is a proprietary software application designed specifically for cell phones and smart phones. The ESP application provides a concise Emergency Service Profile based on an internationally recognized victim assessment procedure used by first responders. MyRapidMD has formatted this procedure into a mobile software application that also attaches a photo of the cell phone owner to confirm the identity in emergency/accident situations. ESP can easily be retrieved and displayed by first responders by selecting the ESP logo or the letters ESP from the phones desktop menu or applications folder.
Developed in concert with Firemen, Paramedics, Emergency Room Nurses and other first responders, MyRapidMD's ESP mobile software application can assist first responders at the emergency/accident scene in the assessment and treatment of victims. MyRapidMD's ESP turns the cell phone into an efficient and effective emergency information tool for receiving ER personnel while the patient/victim is in transit to the ER.
The company has opened up its website allowing people to experience ESP by visiting http://www.myrapidmd.com and downloading to their phone a compatibility ESP test profile by clicking on the "Test your Phone" icon at no cost. The compatibility ESP will expire after 24 hours.
Once ESP has been installed on a cell phone no carrier or internet connection is required to review the information. ESP information is updatable 24/7 but cannot be edited on the phone or website without a user name and password. Certain ESP fields are locked from being changed once an Emergency Service Profile has been created and sent to a phone.
MyRapidMD's ESP will be available for download to cell phones on Saturday September 1st, 2007 at 9:01 AM PST.
Visit http://www.myrapidmd.com to purchase ESP and become a MyRapidMD member. MyRapidMD offers individual and family memberships. Members receive a welcome pack that identifies them as being a MyRapidMD member and their phone as being ESP enabled. MyRapidMD's ESP is supported by a 24/7 automated call center in case phone is lost or broken in an accident.
"With more than 230 million cell phones in the US alone, 25% of young Americans not owning landlines and 40% of 8 to 18 year olds owning a cell phone it is safe to say that the cell phone is an important part of people's everyday lives. It is time to make cell phone content reflect that importance by ensuring it delivers more than just communications and entertainment, but also reflects the cell phone owner's life and needs in times of emergency" said Mr. White.
Mr. Woody Fleming, a career fireman and paramedic who also sits on MyRapidMD's Emergency Services Advisory Board, best describes the value of MyRapidMD's ESP:
"If you own a cell phone, you should have ESP on it; help me help you when you need me most."
For more information contact:
Mark White
MyRapidMD Corporation
Does your phone have ESP?™
Main: 877 9GET MRMD (877 943 8676) ext. 114
Web: http://www.myrapidmd.com
# # #