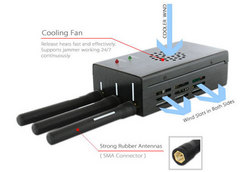 Cooperstown, NY (PRWEB) June 11, 2010
There are two major types of jammers, jammers for personal usage, also known as handheld or portable, and desktop jammers for usage in cinemas, theatres, offices, etc. No matter what signal a person needs to block, he can easily find both portable and desktop jammers with necessary specifications at Jammer Store. The difference between portable cell phone jammer and desktop cell phone jammer is in its size. Such jammer can simply be hidden in the pocket and its owner will be secured from spy GSM-based bugs and phone blabbing around him. It's useful, it's convenient but unfortunately it can't last long. Portable cell phone jammer can work only few hours because of battery capacity and overheating. Jamming of the radio signal is rather power-consuming process that is why handheld cell phone jammer needs to be recharged fairy often. It also can't be used during charging the battery because of overheating. Overheating is a real problem of portable cell phone jammers because they don't have cooling system at all. As for the desktop jammers, they can only be used when connected to power network because there is no battery in such jammers. It's also not practical to carry desktop jammer with you considering its size. Despite those inconveniences desktop jammers have one huge advantage: they can operate 24/7. These jammers are not overheated thanks to built-in cooling system.
Finally, a new type of cell phone jammers became available on the market. SFC-15 combines all advantages of both desktop and portable models. It has a built-in high capacity battery and a small size so it's ideal for personal usage. Just turn this cell phone jammer on, put it in the pocket and stop worrying about GSM-based spy bugs and irritative phone calls. Despite having a small size, SFC-15 has a built-in cooling system that prevents this jammer from overheating and can work directly from the power network. That's why SFC-15 can be also effectively used as a desktop cell phone jammer. In addition to all these improvements, this universal cell phone jammer has specially developed antennas covered with strong rubber. These antennas provide more powerful jamming effect in more than 10 meters radius and rubber coverage protects antennas from damaging. These technical improvements were also used for creating GJ6, a new GPS jammer with cooling system that can be used both for personal protection and for securing the office from GPS-based spy devices.
More information concerning jammers, their types, jamming frequencies, working range, technical info you can get by contacting Jammer Store Company. We are the biggest manufacturer of GSM, GPS, Wi-Fi jammers with the main office located in Sweden. Please contact us via email jammerstore(at)gmail(dot)com or by using contacting form on our website http://www.jammer-store.com
###