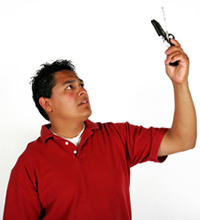 Don't put up with poor cell phone reception and dropped calls. Get it fixed at CellularDR.com
Glendale, CA (Vocus/PRWEB) January 31, 2011
CellularDR.com is pleased to announce its highly anticipated Cell Phone Antenna Reception Repair Service. Through this service cell phones can be repaired for a number of different reasons all relating to the same root cause; poor cellphone reception.
Before selecting this service, however, CellularDR.com recommends contacting your cellular phone service provider first. This will help eliminate the problem of poor service on their behalf. If the problem does not belong to the actual service provider, Cell Phone Antenna Reception Repair is the best option.
The service is designed to target some of the most common problems with cell phones both old and new. Due to typical heavy use, a cell phone can be damaged very easily at any time. Those consumers who are having trouble making or receiving calls, have lower signal bars, many dropped calls or "call failed" messages can benefit from this service.
The process for sending in the cell phone is easy and the repair process can be summed up in 3 convenient steps. CellularDR.com repairs all makes and models of cell phones including HTC, Blackberry, Motorola, Samsung, Sidekick, Apple iPhone, Nokia, Palm, LG and much more. Unlike many cell phone repair shops, CellularDR.com carries a large inventory of cell phone parts in stock. This means that customers who choose the company will receive their cellphones back much quicker. Most time incurred for a typical cell phone repair is waiting for the part to come in. CellularDR.com has eliminated this aspect and offers customers something most repair shops cannot- swift cell phone repair service.
During the cellphone antenna repair service you can also choose to have your cell phone contacts and other information backed up. During the cellphone repair process, no information is lost pending there is no extensive damage. Even on phones that have had fairly significant damage, there is still a chance that information can be retrieved. CellularDR.com prides itself on being the leader in cellphone information retrieval.
To find out more about the cell phone antenna repair service or any other cell phone related repair services, visit http://www.cellulardr.com. Initiating the repair process is easy and starts with the purchase of a repair service. Once the cell phone is sent in, the rest of the repair process will be taken care of by the CellularDR.com team.
About CellularDR:
CellularDR.com is the trusted leader in providing cell phone repair, software upgrade, cellphone contact data transfer, cell phone repair parts, accessories and other cellular phone services both online at CellularDR.com and at their offices centrally located in Glendale, California serving the surrounding cities: Los Angeles, Pasadena, Burbank, La Canada, Studio City, Sherman Oaks, Santa Monica, Hollywood and North Hollywood. Services are provided on a variety of cellular phone makes and models including major brands such as Apple iPhone, Rim Blackberry, HTC, Kyocera, LG, Motorola, Nokia, Palm, Pantech, Samsung, Sidekick and Sony Ericsson cell phones.
Contact:
CellularDR.com National Cell Phone Repair Hotline
Toll Free (877) 288-4488
CellularDR.com Blog
Join CellularDR on Facebook
Follow CellularDR on Twitter
# # #