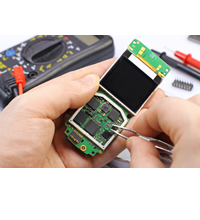 CellularDR.com can now repair cell phones with no power or even ones that overheat or short out.
Glendale, California (Vocus/PRWEB) January 31, 2011
In an effort to continually offer cellphone users affordable cell phone repairs, CellularDR.com has now released its "No Power Repair Service". By choosing this service, customers are able to salvage their existing phone rather than paying full price for a new one. The end result is less money out of pocket and less stress.
Many consumers automatically assume a cell phone without any power is irreparable. CellularDR.com's new No Power Cell Phone Repair Service helps determine if a cellphone can be repaired more cost effectively than a replacement phone. This cellphone repair service offers a flat rate for diagnostic and repair of any model. This means that customers know exactly what to expect with out of pocket expenses up front.
In addition to saving money repairing a cell phone with no power, the customer also saves the hassle of manually entering all current cell phone information into a new cell phone. With so many apps, contacts and other useful information, many cell phone users get frustrated and stressed trying to transfer their information to a new phone. Also during the process there are inevitably items that are going to be missed and not there when the user needs them.
Select the No Power Cellphone Repair Service for phones that do not turn on, short out, overheat or continuously turn off and on. This service is even helpful for people who have old broken cell phones with information they need or want. Getting the phone to start up will allow the customer to retrieve important information such as documents or photos that they thought were lost.
For more information on how a cell phone with no power can be repaired visit http://www.CellularDR.com. Before getting stuck buying another cell phone, save time and money by utilizing CellularDR.com cell phone repair services. With many years of experience and highly trained technicians, CellularDR.com is the name to trust in the cell phone repair industry.
About CellularDR:
CellularDR.com is the trusted leader in providing cell phone repair, software upgrade, cellphone contact data transfer, cell phone repair parts, accessories and other cellular phone services both online at http://www.CellularDR.com and at their offices centrally located in Glendale, California serving the surrounding cities: Los Angeles, Pasadena, Burbank, La Canada, Studio City, Sherman Oaks, Santa Monica, Hollywood and North Hollywood. Services are provided on a variety of cellular phone makes and models including major brands such as Apple iPhone, Rim Blackberry, HTC, Kyocera, LG, Motorola, Nokia, Palm, Pantech, Samsung, Sidekick and Sony Ericsson cell phones.
Contact:
CellularDR.com National Cell Phone Repair Hotline
Toll Free (877) 288-4488
CellularDR.com Blog
Join CellularDR on Facebook
Follow CellularDR on Twitter
###