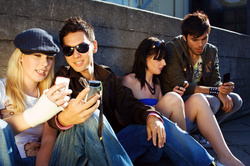 Our phones have been ringing off the hook
Houston, TX (PRWEB) January 17, 2009
The current "sexting" epidemic and the recent arrests of 6 Pennsylvania teens have parents scrambling to find solutions to a problem that surfaced seemingly overnight.
Sexting is the act of sending nude or explicit photos of oneself through the cell phone network or Internet to another cell phone. While this has undoubtedly been happening for quite some time it has just now gained media attention and parents are starting to pay attention.
What teens see as a joke or innocent fun is turning into one sticky mess that could land them in jail with possible probation or even prison time. What's worse is the scarlet letter that follows. Being labeled as a registered sex offender stays with a person for life. It automatically disqualifies you from jobs that most people take for granted and could one day prevent you from doing something as simple as dropping off and picking up your own child from daycare or school.
"Our phones have been ringing off the hook," says Jon Marshall, CEO of SpyGadgets.com in Houston, TX. "Parents just want to protect their kids and they are scared. Nobody wants to see their child end up in prison or have their future ruined just because of something like this." Marshall sells a cell phone spy device that is used to recover data from the SIM card found in some cell phones on the market. It can let you view text messages stored to the SIM card, even deleted text messages. While it won't recover pictures from the phone, reading the messages will give a parent an idea of what their teen is texting.
Cell phone companies are scrambling to give parents the tools to help combat this problem but it could be too little, too late. The "Cell Phone Spy Ultra" Spygadgets carries sells for under $170.00 and is ready to ship today. "I believe in trusting your kid and having open conversations but what about their friends? Who knows what they are sending your kid. Simply possessing an image of someone under 16 that is questionable could be considered child porn. And if the parent has even the tiniest bit of suspicion I highly suggest they take the extra step and just see for themselves what's on that cell phone," says Marshall.
Most adults don't have the time to learn the ins and outs of cell phones and features available today were not even dreamed of 10 years ago. Marshall suggests that if you try to access your child's cell phone and there is a lock code and you don't know what it is you should be concerned. "Why does a kid need to keep you out of their cell phone with a secret code? This would raise my level of suspicion immediately," he adds.
While the Cell Phone Spy only works on phones that use a SIM card there are other solutions. Cell phone stores commonly have the ability to access a cell phone by the USB or data port and retrieve contacts, pictures, and text messages. Contact your local carrier and see if they offer this service.
Cell Phone Spy SIM Card Recovery Reader
# # #