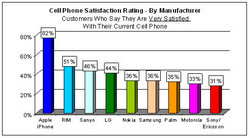 The continuing embrace of the iPhone by the public is a stellar example of how a new product can forever alter its own playing field.
Rockville, MD (PRWEB) October 18, 2007
The latest ChangeWave Research consumer cell phone survey, completed Oct. 2, 2007, finds the Apple (AAPL) iPhone has continued to enjoy solid growth while racing to a huge lead in terms of customer satisfaction.
A total of 3,654 Alliance members participated in the survey, which looked at key market share changes among the major cell phone manufacturers and service providers -- and found that while the iPhone's been on the shelf just three months its impact is already being felt industry-wide.
Apple's current cell phone market share among respondents rose to 2% in this survey, double ChangeWave's last cell phone survey in July - solid growth that's in line with previous expectations.
The top cell phone manufacturer, Motorola (MOT), still maintains its number one spot in terms of current market share with 30%; however, that figure has fallen 1-percentage point since our July survey to its lowest level in more than a year.
But the most striking finding of the survey is the iPhone's outstanding customer satisfaction rating. An unprecedented 82% of iPhone owners reported being Very Satisfied with their purchase, up 5-points since our previous survey in July and by far the highest rating of any cellular manufacturer.
The only other company with a satisfaction rating above 50% is Research-in-Motion (RIMM; 51%).
At the other end of the spectrum, Motorola (33%) was next to last among cellular manufacturers in customer satisfaction, with Sony/Ericsson (31%) at rock bottom.
Focusing on the future, it's when we asked respondents about their planned cell phone purchases that the iPhone marketplace transformation becomes fully apparent. Going forward, ChangeWave finds an astonishing 16% of respondents who plan to purchase a cell phone in the next six months saying they'll buy an iPhone -- placing Apple up at the top among all manufacturers.
Importantly, while the number of European and Canadian respondents in the survey wasn't large enough to draw final conclusions, the iPhone appears set for a stellar debut when it launches in the coming months in Europe and Canada.
"There's no longer any doubt about the staying power of the iPhone," said Tobin Smith, founder of ChangeWave Research and editor of ChangeWave Investing, who added, "The continuing embrace of the iPhone by the public is a stellar example of how a new product can forever alter its own playing field."
In other findings, after a long and horrendous slide, Motorola's future planned purchases (15%; up 1-pt), appear to be bottoming for the first time in a year. Note, however, that ChangeWave surveys throughout 2007 have shown Motorola to be the manufacturer hurt most by the iPhone, and the current survey results continue to support that finding.
On a more upbeat note, Nokia (NOK) planned purchases have jumped 3-points since our July survey to 13%. Conversely, LG (4%) and Palm (PALM), 2%, have each fallen 2-pts.
Within the cellular service providers market, the tug-of-war between Verizon (VZ) and AT&T (T) rages on.
In terms of current market share, both Verizon (30%) and AT&T (29%) have each gained 1-point since a previous survey in July. For AT&T -- the iPhone's exclusive service provider in the U.S. -- this is the third survey in a row that they've racked up a 1-pt gain.
Mired far behind in third place is Sprint/Nextel (S) with 12%. The company still shows no signs of a turnaround from its downward spiral.
Looking ahead, after the initial wave of excitement for the iPhone, planned future demand for AT&T -- while still historically high -- is returning to more normal levels. Among respondents who plan to switch carriers over the next six months, a total of 23% say they'll go with AT&T -- a full 7-points lower than the July survey.
Verizon, on the other hand, has halted its downward slide in planned purchases that began immediately after the Steve Jobs iPhone announcement back in January. All told, the company has increased its share of planned purchases 2-points to 21% -- significantly narrowing its gap with chief competitor AT&T.
Importantly, Verizon customers continue to give their company the highest satisfaction rankings in the industry, even as lower satisfaction ratings continue to plague AT&T. We note that previous surveys have identified the speed of the AT&T network as the top complaint among users.
Going forward, Sprint barely registers in terms of planned purchases, garnering a minuscule 3%.
For the complete story on the Apple iPhone and its transformational impact on the rest of the industry, please go to http://www.changewave.com
The ChangeWave Alliance is a network of over 11,000 highly qualified business, technology, and medical professionals in leading companies of select industries - credentialed experts who spend their everyday lives working on the frontline of technological change. ChangeWave surveys its Alliance members on a range of business and investment research and intelligence topics, collects feedback from them electronically, and converts the information into proprietary quantitative and qualitative reports.
For a copy of the entire ChangeWave Research cell phone report, please contact Darlene March, 714-887-8021.
###