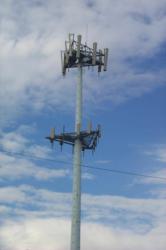 (PRWEB) November 16, 2012
Com-Serve.com, represents cell site landowners (100% done-for-you process) to negotiate 30-50% greater profit on for a Cell Tower Lease Buyout, by using appraisal techniques to prove the true value of your asset.
Most landowners have received an offer on a cell tower lease and most of people don't really understand the cell tower market like a professional, however the lump sum of money that the cell tower company is promising is attractive to them. Often this is where Com-Serve comes to the rescue. Talking with a cell tower expert is the best choice as they have the customers best interest at heart. Professionals (like Com-Serve) are the ones that follow trends in the cell tower market economics in order to know how to get the landowner the most money and during what time of the year.
Even if a landowner already signed some paperwork from a cell tower company, Com-Serve can still help to re-negotiate a better price!
"Never before has it been so easy to "enforce" fair pricing with Cell Tower Companies by using our service to justify a 30-50% higher dollar amount for your buyout. On average, our clients receive 10 years of revenue for their cell tower lease buyout", says David Espinosa
Com-Serve will represent landowners 100% to negotiate a 30-50% higher price for their Cell Tower Lease Buyout. One of the best parts about Com-Serve is that all customer don't have to pay Com-Serve anything unless they make the landowner money. David Espinosa say, "Ten year revenue buyouts are average for Com-Serve clients, in lump sum payouts".
Com-Serve is ready to make landowners extra money by representing the cell sites that currently have a cell tower on them.
The best part about Com-Serve.com is the no-risk work philosophy which means if the landowner ever gets an offer by another company and its a better offer than what Com-Serve can offer then they can walk away from the service at no cost. Com-Serve also represents landowners that have been contacted by Landmark dividend.
--- About Com-Serve ---
Com-Serve was founded in 1997 as a reaction to the Telecommunications Act of 1996. The company has helped clients in all 50 states, and has successfully negotiated higher rates with all leading cell phone companies.
Regardless of the phase in which customers find themselves in the cell tower lease process, Com-Serve has the ability to help achieve a better outcome for its clients.