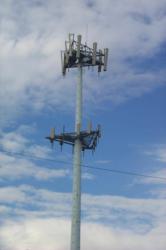 (PRWEB) January 24, 2013
Unless a land owner is a Cell Tower Lease Expert like Com-Serve.com, Georgia's leading cell tower lease consulting company, the Cell Tower Lease Buyout offers from cell tower companies will not be as large of a sum.
The company has a 6 year successful track record of helping private property landowners, businesses, and public municipalities to provide accurate, fair appraisals, as well as "translate" Cell Tower Lease Buyout Contracts into plain English so buyers completely understand the agreement before signing. After all, contract re-negotiation is always difficult, if possible, after signing a contract however Com-Serve has held a 80% success rate at renegotiating contracts for better terms and dollar amounts!
Com-Serve.com provides free consultations, acting on behalf of land owners to demand 30% to 50% more money in a Cell Tower Lease Buyout.
Companies like Black Dot Wireless or Landmark Dividend, launched in 2002, were created after entrepreneurs saw the huge potential of brokering cell tower lease buyouts with cell companies.
Com-Serve.com was built in 1997 after the Telecommunications Act of 1996 enabled cell tower companies to profit from uneducated land owners, giving Com-Serve the huge advantage of experience since the market's creation.
Cell tower lease rates fluctuation is how profit is made in this industry. Com-Serve negotiates on the land owner's behalf to get the true value, rather than the desired "low ball" amount originally offered.
Contact Com-Serve immediately at 404-245-0005 to receive a free initial consultation to determine if Com-Serve is the right Cell Tower Lease Expert for your specific situation. Services include: rent optimization, buyout negotiation, site evaluations, contract renegotiation's, and rooftop negotiations, and more.