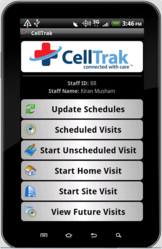 CellTrak on the Tablet Computers provides accurate and timely documentation, which eliminates the need for hours of data entry each week. - Deb Wagner RN CHPN, Clinical Informatics at Hospice of the Red River Valley
Schaumburg, IL (PRWEB) June 22, 2011
Hospice of the Red River Valley, an independent, nonprofit hospice organization serving 29 counties across North Dakota and Minnesota, provides care to more than 250 patients each day. Based in Fargo, N.D., Hospice of the Red River Valley has successfully implemented the CellTrak mobile point-of-care application to improve the ability of its Certified Nursing Assistants (CNAs) to deliver more focused and dedicated care.
Hospice of the Red River Valley has been using Suncoast Solutions clinical and scheduling applications since December of 2010. They were interested in further automation and reduction of the paperwork required to document Certified Nursing Assistant visits. The new electronic visit verification technologies from CellTrak were selected to be implemented. Hospice of the Red River Valley selected the Galaxy Tablet from Samsung running on the Verizon network. The tablets were chosen over the cellular phones due to the size of the screen and ease of use for the staff.
Deb Wagner RN CHPN, Clinical Informatics at Hospice of the Red River Valley shared, "The integration of the schedules, patient data and staff between Suncoast Solutions and CellTrak gives our CNAs access up-to-date information and therefore allows them to better care for their patients." Deb added, "CellTrak on the Tablet Computers provides accurate and timely documentation, which eliminates the need for hours of data entry each week."
The Galaxy Tablet from Samsung is running Google's Android operating system, which provides for maximum flexibility for an agency to run CellTrak as well as other mobile applications. The 7" screen provides more visible workspace for staff and the device is lightweight and can be held in one hand. The instant on features and the integrated GPS capabilities are perfect to help support health care workers use.
The GPS features available as part of the CellTrak solution offering takes the guess work out of calculating mileage. GPS tracks the mileage to and from each patient's home and immediately stores it in the system. It also gives staff members the ability to get directions from wherever they are to a patient's home.
Michael K. Wons, president and CEO of CellTrak Technologies added, "We are very excited to have the opportunity to help enable the team at Hospice of the Red River Valley. CellTrak provides a mobile application platform for home and community care and supports all major mobile platforms and devices. In this case, Hospice of the Red River Valley choose the new Galaxy Tablet, which is one of the leading new devices available for health care."
Google recently has launched the Medical Category on the Android Marketplace. This makes it easier for health care organizations to manage applications deployed for staff to use. CellTrak can be accessed anytime via the Android Marketplace on the web or on your mobile device http://market.android.com
About Hospice of the Red River Valley
Hospice of the Red River Valley is an independent, nonprofit hospice serving all or portions of 29 counties in North Dakota and Minnesota. Hospice care is intensive comfort care that alleviates pain and suffering, enhancing quality of life for terminally ill patients and families by addressing their medical, emotional, spiritual and grief needs. For more information, call toll free 800-237-4629, e-mail questions(at)hrrv(dot)org or visit http://www.hrrv.org.
About CellTrak Technologies
Founded in 2006, CellTrak Technologies, Inc. is the leading provider of integrated mobile solutions for the home healthcare, hospice, and private duty markets. Our patent pending software-as-a-service solutions run on GPS-enabled mobile devices via a homecare technology platform which automates workflow and reduces cost. Data is transmitted wirelessly to an internet site making the data available real time and secure instantaneous integration is provided to the back-end clinical systems and the payer networks. Homecare aides have delivered millions of successful visits via CellTrak. For more information please visit: http://www.celltrak.com.
# # #