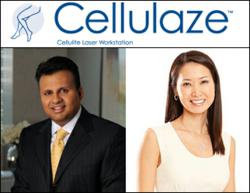 Cellulaze has demonstrated lasting results for at least as long as a year after only one treatment.
Houston, TX (PRWEB) May 01, 2012
Plastic Surgeons Drs. Bob Basu and Sugene Kim are pleased to be one of the first plastic surgery practices in the Houston area to offer patients Cellulaze, a breakthrough, long-lasting, anti-cellulite treatment designed to increase the skin's natural elasticity while leveling out uneven fat tissue. Current cellulite treatment methods are only temporary and must be repeated daily or weekly to see the effects, while Cellulaze has demonstrated lasting results for at least as long as a year after only one treatment.
Cellulaze is the only cellulite treatment that attacks structural problems beneath the skin that cause cellulite. Performed under local anesthesia, Cellulaze utilizes a unique, side-firing laser to target the causes of cellulite beneath the skin: pockets of fat, stiffened fibrous bands and thin skin. During the procedure, a tiny laser fiber is inserted under the skin, which gently heats the skin and melts the fat. Next, the laser releases the fibrous bands that create the dimpling or "orange-peel" effect and prevents them from pulling down on the skin. This release creates a smoother, healthier look on the skin's surface. Finally, the laser energy stimulates collagen production to increase the skin's thickness and elasticity for a more even appearance.
"We are pleased to be bringing Cellulaze to Houston and The Woodlands," noted Dr. Basu. "We feel this treatment gives a new, viable option for those seeking to reduce cellulite."
Cellulite predominantly affects women and is caused by a combination of factors, which are primarily outside of one's control. Heredity, age, weight changes, thickness and elasticity of the skin may all play a role in the visibility of cellulite. Treatments in the past have been largely ineffective because the underlying structural problem of cellulite was not addressed. Cellulaze is the first cellulite reduction treatment to provide long-lasting results in a single treatment and finally women can win the battle against cellulite they have been struggling with.
Drs. Basu and Kim are now performing consultations for the treatment.
About Dr. Basu and Dr. Kim:
Dr. Sugene Kim is a double board certified plastic surgeon and serves as medical director of SGK Plastic Surgery. She brings her training in cosmetic plastic surgery from New York City including her skills she garnered from working with internationally recognized plastic surgeons on Park Avenue to The Woodlands and Katy communities.
Dr. Bob Basu is also a board certified plastic surgeon and is the Chief of Plastic Surgery at North Cypress Medical Center. He is a national leader in his field, serving as the Chairman of the Patient Safety Committee and member of the Ethics Committee for the American Society of Plastic Surgeons.
Both Drs. Basu and Kim have a strong reputation for their natural results and expedited recoveries in cosmetic plastic surgery including breast augmentation and lifts, mommy makeover procedures, and weight loss contouring. They strive to incorporate innovative minimally invasive techniques supported by clinical evidence and are proud to be one of the first to offer the new state-of-the art FDA approved Cellulaze procedure in the Houston area.