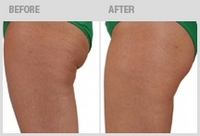 Judy Goss, editor for More magazine explained about Skineez, "They're a dieter's dream come true. There really is cellulite fighting ingredients in there."
Boston, Mass. (PRWEB) June 15, 2010
Just in time for beach body and wedding season, Skineez™ Skincarewear is introducing its line of instant skinny jeans. The European designer jeans feature Tummy Tuck technology to slim and reduce the size of the waist, hips and stomach for a long, lean and slimmer appearance. The slimming and skin-firming boot-cut Skineez Jean is compression shapewear with the added benefit of skincare weaved in.
Skineez Skincarewear has been featured on shows such as The Home Shopping Network, Fox Morning News, The Early Show, and The Doctors. The Doctors' Dr. Drew Ordon, who specializes in plastic surgery, said that Skineez works to "constrict the skin, stimulate circulation, and smooth out the fat. If you stick with it, it will work." Skineez also has been featured in The Wall Street Journal, Best Health. Boston Herald and More magazine. Judy Goss, editor for More explained about Skineez, "They're a dieter's dream come true. There really is cellulite fighting ingredients in there."
Skineez founder and CEO, Michelle Moran, said, "Savvy women from around the world are looking for help and what do they tell us? 'Cellulite, cellulite, help me get rid of this cellulite!' 'My legs look like cottage cheese!' 'I hate my thighs!' 'Help, my knees are sagging!' 'Cankles? when did I get cankles?' 'I refuse to have a muffin top!' 'My skin is so loose since I lost weight, what can I do?' 'Since my pregnancy, my skin looks crepe-y, dimply and saggy--Help!' 'Is there anything I can do about these stretch marks?' 'Summer is coming and I need to get bikini-ready--quick!' Even celebrities such as the gorgeous Sandra Bullock and the beautiful Kim Kardashian confess they are not immune to the burden of cellulite!"
Moran continued, "Women want solutions for their trouble spots, and Skineez Skincarewear gives them that and more. It's not just shapewear. And it's not just skincare. It is science and beauty combined. We call it 'shapewear with benefits.' It's skincare that you wear.
Skineez compression shapewear garments are made from the newest technology in Europe and available in the U.S. exclusively through Skineez. The patented technology weaves tiny microcapsules into the fabrics to release slimming and smoothing benefits to the skin as the garment is worn. The garments contain a patented formula of active natural anti-cellulite and moisturizing ingredients. Embedded in the garments is retinol, caffeine and red algae extract as well as shea butter, apricot kernel oil, rose hip oil and vitamin E. The combination of vitamins and antioxidants provide a constant delivery of moisturizing, firming, energizing, lifting, smoothing, and tightening to the skin as the garment is worn, providing a slimming and revitalized effect.
Women participating in extensive Skineez product trials have seen significant results including inches lost, smoother skin and overall rejuvenation. Stephanie of Lincoln, Illinois loves the results from Skineez. She said, "I have been using Skineez and I want to tell you how much smoother my skin is. You wouldn't believe how soft my skin is!" Julie of Los Angeles said, "I am a stay at home Mom and very busy with my family! I wore Skineez while taking care of my home and children and I noticed visible changes in my legs as my skin became firmer and softer." Further results and before and after photos and videos can be seen on http://www.myskineez.com.
Skineez Jeans celebrate the woman's body. The Tummy Tuck technology and patented formula embedded in the fabric provide women with the compression, comfort and style they want. The jeans are available in black, mid denim and dark denim. Skineez jeans are sold exclusively through the HSN website for $99.90. Skineez Jeans also can be purchased LIVE on HSN, July 15 and July 16, 2010. For more information on SKINEEZ™ Skincarewear™ or to purchase Skineez garments visit http://www.myskineez.com.
ABOUT SKINEEZ™ SKINCAREWEAR™
SKINEEZ™ Skincarewear™ is a line of daily compression shapewear garments with the added benefits of skincare. The garments feature the latest patented technology from Europe, available in the U.S. exclusively through Skineez. It is "shapewear with benefits." Active natural ingredients embedded in the garment deliver cosmetics, vitamins and antioxidants into the skin as the garment is worn. It is proven to reduce inches in the stomach, hips and thighs while decreasing the sight of cellulite, rejuvenating, firming, tightening and smoothing the skin. Results are noticeable in as little as five days. For more information visit http://www.myskineez.com.
###