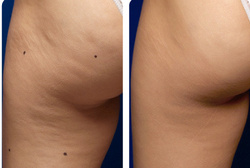 Clinical evaluations have demonstrated that Thermage® technology noticeably reduces the appearance of cellulite after just a single treatment
Seattle, WA (PRWEB) March 24, 2008
Seattle Plastic Surgeon Dr. Stephen B. Anderson announced today the addition of a revolutionary new Cellulite treatment to his Bellevue, WA practice. The Cellulite treatment technology engineered by Thermage uses the FDA cleared ThermaCool® system for the temporary improvement in the appearance of cellulite.
Unlike other non-surgical treatments available, in clinical trials the Thermage Cellulite treatment showed visible improvement in the appearance of dimpled skin on the buttocks and thighs with just one treatment.
The Cellulite procedure by Thermage is the result of 21 months of clinical and technology development. The treatment rebuilds collagen and improves blood flow to the tissue helping to improve and smooth the appearance of the skin's surface.
"Clinical evaluations have demonstrated that Thermage® technology noticeably reduces the appearance of cellulite after just a single treatment," said Stephen J. Fanning, Chairman of the Board, President and Chief Executive Officer at Thermage.
According to a study published in 2007 by the Millennium Research Group, nearly 90 percent of women experience some degree of cellulite.
"Many of my patients have long been frustrated by cellulite," said Bellevue, WA. plastic surgeon Dr. Stephen B. Anderson, "but until now there has not been an accessible and effective treatment for cellulite."
"I am excited to offer patients an effective cellulite procedure that takes just one treatment with no surgery, injections or downtime."
All Thermage procedures use a unique radiofrequency technology for controlled heating of tissue that is backed by years of clinical research. The technology has been written about in over 45 peer-reviewed articles and safely used on over 450,000 patients worldwide to stimulate existing collagen and promote new collagen growth. Patients benefit from a single treatment and results can be subtle to dramatic depending on the individual patient.
About Thermage
Thermage treatments are unique non-invasive procedures designed to smooth, tighten and contour skin on the face, neck, hands and body.
Dr. Anderson was one of the first Seattle-area plastic surgeons to offer the Thermage procedure after it received its clearance from the U.S. Food & Drug Administration in 2002. He has treated hundreds of patients with the Thermage procedure on many areas of the body including the face, jowls, neck, stomach, back, arms, legs and hands.
According to Dr. Anderson, "Thermage is the ideal solution for patients seeking a refreshed and rejuvenated look to the skin on almost any part of the body without surgery, downtime or needles."
Dr. Anderson will be hosting an information session for this new treatment on March 26, 2008 at 6:30pm at the Bellevue Club in Bellevue, WA. RSVP is required.
For more information about Thermage or to RSVP to Dr. Anderson's upcoming event, contact Anderson Cosmetic Surgery at (425) 453-9060 or http://www.800theface.com.
###