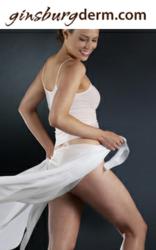 Cellulaze is the only treatment that attacks the structural problems beneath the skin that cause cellulite.
Birmingham, AL (PRWEB) February 23, 2012
Dr. Barry Ginsburg, a Birmingham, AL Dermatologist, today announced he is the first physician in Alabama, Georgia and Tennessee to offer the Cellulaze™ by Cynosure, the first and only FDA approved, minimally invasive medical device designed to treat and dramatically reduce cellulite.
"Women have been battling cellulite for years with diet and exercise, or have tried the myriad of lotions and creams currently on the market. Since Cellulite is a structural abnormality in the skin and fat, no external treatment can compare to the Cellulaze procedure, which directly treats the physiological structure of cellulite, providing clinically proven, long lasting results,"
Cellulite is the appearance of the surface of the skin, around the hips, thighs, and buttocks, which appears as an "orange-peel" or a "cottage cheese" appearance. Dr. Ginsburg, having over 30 years of experience with dermatologic and minimally invasive cosmetic procedures, is continually seeking the most advanced treatments for his patients.
Up until now, Liposuction has been the primary treatment for removal of fat under the skin. The Cellulaze laser is the world's first one-time treatment for cellulite that is FDA approved.
Cellulaze reduces cellulite in just one treatment by restoring the normal structure of the skin and underlying connective tissue. Cellulaze melts the lumpy pockets of fat, releases the fibrous bands that cause the skin depressions and thickens the skin giving it a smoother more beautiful look.
Nearly four years of clinical research puts Cellulaze in a class of its own: the only single-treatment aesthetic procedure clinically shown to reduce cellulite. Clinical data has demonstrated that Cellulaze treatments, when evaluated one year later, can increase the thickness of the skin by 25% and increase the elasticity of the skin by 29%. . No other anti-cellulite treatment has been proven to deliver these results.
"I have been following the research on Cellulaze for over 6 months.. I knew as soon as it was FDA approved in the United States I would offer it to may patients. Using technology similar to triplex laser lipo, it will fill the final void in achieving the figure you have been dreaming about.
My practice is now offering consultations for those interested.
About Cynosure, Inc.
Cynosure, Inc. develops and markets aesthetic treatment systems that are used by physicians to perform non-invasive and minimally invasive procedures . They were the first company to offer Smart lipo and Triplex laser lipo.. They also manufacture lasers to remove hair, treat vascular and pigmented lesions, and rejuvenate the skin.. Cynosure's products include a broad range of laser and other light-based energy sources, including Alexandrite, pulse dye, Q-switched, Nd:YAG and diode lasers, as well as intense pulsed light. Cynosure was founded in 1991. For corporate or product information, contact Cynosure at 800-886-2966, or visit http://www.cynosure.com.
About Ginsburg Dermatology
Ginsburg Dermatology Center has an Aesthetic Surgery and Laser Clinic, an Anti-Ageing Clinic, and a Skin Cancer Clinic providing the most comprehensive dermatological services for both medical and cosmetic procedures. Ginsburg Dermatology Center is one of the foremost dermatology practices in the South providing diagnosis and treatment with surgical and pharmacological techniques for diseases and conditions of the skin. Some of the common medical problems treated include acne, rashes, dry skin, eczema and allergic reactions, as well as other problems that may affect the skin, nails, scalp and mucous membranes. We also provide advanced care for more severe problems such as skin cancer, including Moh's surgery. Cosmetic Dermatology including minimally invasive cosmetic surgery has become an important and rewarding part of Ginsburg Dermatology Center. Just call our office at 205-592-4880.
Press Contact:
Ginsburg Dermatology Center
972 Montclair Road
Birmingham, AL 35213
205-592-4880
fax: 205-592-3999
info(at)ginsburgderm(dot)com
###