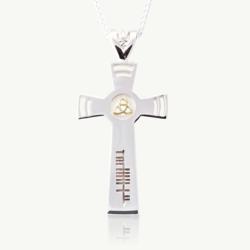 The malls win on Black Friday, but Cyber Monday is the online stores' opportunity to make up on lost ground
New York, NY (PRWEB) November 26, 2012
Today – online Irish jewelry business CelticPromise.Com is set to cash in on 'Cyber Monday', the recently coined term for the upswing in online sales the Monday following Thanksgiving and retail store rush 'Black Friday'.
'Cyber Monday' first got its name back in 2005 after online retailers noticed a big upswing in sales the Monday after retail blockbuster 'Black Friday'. 77% of online retailers have reported a boost in sales on Cyber Mondays over the last number of years. The hike has been attributed to employees with post holiday blues that opt to shop online during work hours.
Company President; Siofra Hill is no stranger to post holiday blues. "I can sympathize with the nine to five workers," says Hill. "Before I left my career in financial services I always struggled on my return to work after the holidays. There's nothing like some lunchtime online gift shopping to hold onto that festive mood!" she added.
This Cyber Monday Hill hopes to entice customers by offering 10% off all online purchases plus Free Shipping on all orders to the US, Canada, UK and Ireland. Today - her focus will not be on purchasing, but on processing the orders generated as a result of their exclusive promotion and this emerging online retail trend. "The malls win on Black Friday, but Cyber Monday is the online stores' opportunity to make up on lost ground" says Hill.
CelticPromise.com showcases Celtic jewelry and contemporary designer jewelry from Ireland's leading designers. The web based company promises 'heritage jewelry with a contemporary twist', and is confident that it offers the perfect gifts with meaning for friends and family this holiday season.
In additional to traditional Celtic knot, Celtic Cross and Claddagh designs the store offers exciting offerings from contemporary Irish jewelry designers including Martina Hamilton, winner of a prestigious "Editors Choice" award at the International Jewelry London design show, and Button & Co, makers of unique button charm jewelry which is setting trends in Europe.
The store's '10% Off and Free Shipping' promotion starts at midnight 25 November and runs until midnight on Cyber Monday 26 November. More information about the promotion is available on the Celtic Promise website.
About Celtic Promise
Founded in 2010, Celtic Promise was started by Irish born entrepreneur Siofra Hill. The website CelticPromise.com promotes the talents of Irish jewelry designers to an International audience. With a product offering of over 700 traditional Celtic jewelry and contemporary Irish jewelry products, Celtic Promise has quickly become one of the leading Irish jewelry companies selling online in the US and Internationally.