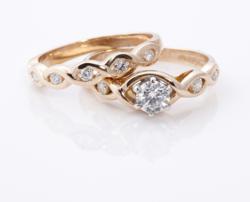 It's an exciting time for Irish jewelry - it is great to be a part of that
New York, NY (PRWEB) October 10, 2012
In October 2011 Celtic Promise was launched by Irish born entrepreneur Siofra Hill. Frustrated by her inability to source quality Irish jewelry designs outside of Ireland, she set about to connect Irish jewelry designers with online purchasers in the US and Internationally.
The first twelve months of operations have proved a good experience for the founder who has seen a positive response from customers. In a market that is becoming saturated with low-end dated online businesses, Celtic Promise has been widely welcomed by discerning customers looking for a more exclusive product offering and a higher level of customer service.
"We are very pleased by the reaction of the market to our new business. Sales are growing every month, and customer feedback indicates that there is lots of potential for our business in the marketplace. It's an exciting time for Irish jewelry – it is great to be part of that." said Siofra Hill, Director & Co-Founder of Celtic Promise.
In preparation for the Christmas market the company has added new Irish designers to its catalog including contemporary designer Rachel Swan and Celtic goldsmith Declan Killen. The designers view the representation as an opportunity to reach a wider more affluent market outside of Ireland, whose economic troubles have negatively impacted domestic jewelry sales in recent years.
In the year ahead Celtic Promise will focus on expanding its business through aggressive online marketing in the US, and by appealing to new markets such as the lucrative wedding market. The companies collection of Irish wedding rings and Celtic engagement rings have already proved popular, and the website plans to capitalize on this trend.
To learn more about Celtic Promise and its products, visit CelticPromise.com.
About Celtic Promise
Founded in 2010, online retailer Celtic Promise was started by Irish born entrepreneur Siofra Hill. The website CelticPromise.com promotes the talents of Irish jewelry designers to an International audience. With a product offering of over 600 traditional Celtic jewelry and contemporary Irish jewelry products, Celtic Promise has quickly become one of the leading Irish jewelry companies selling online in the US and Internationally.