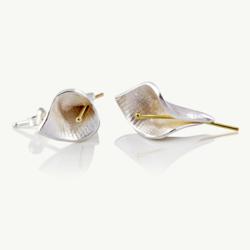 Flowers are the classic Mother's Day gift. Why not take a twist on the classic with a flower pendant, pin or earrings?
New York, NY (PRWEB) April 25, 2013
In the midst of the store's Mother's Day preparations, online Irish jewelry retailer Celtic Promise has compiled a list of the top trends shaping their jewelry gift sales for mothers. With over a third of consumers saying they plan to shop in specialty stores, including jewelry stores, this Mother's Day (source National Retail Federation), Celtic Promise founder Siofra Hill offers advice to customers with her list of top five jewelry gifts for moms.
Say it with flowers – "Flowers are the classic Mother's Day gift", says Hill, "Why not take a twist on the classic with a flower pendant, pin or earrings?" Celtic Promise has seen strong sales in its Irish Wild Flower Jewelry collection which feature dainty hand crafted daisy, lily and abstract flower designs by top Irish goldsmiths including Brian De Staic and Linda Uhlemann. "The big advantage – these flowers will be treasured long after Mother's Day has past" adds Hill.
Family Birthstone Jewelry – Celtic Promise has consistently seen high demand for its personalized birthstone jewelry by Joseph Harbourne, which is customizable with one to eight birthstones of the customer's choice. "The store's birthstone jewelry transcends fashion trends – these have become best sellers as unique pieces with personal meaning" says Hill.
Claddagh Designs - Perhaps the most iconic of traditional Celtic designs, the Claddagh Ring is an eternal classic. Representing Love (the heart), Loyalty (the crown) and Friendship (the hands), the Claddagh is a timeless gift to celebrate that special relationship between mother and child. Celtic Promise stays true to its 'contemporary twist' ethos by offering classic Claddagh ring, pendant and pin designs as well as more contemporary Claddagh rings by designers John Condron and Paul O'Neill.
Memory Bracelets - In a market that is saturated with beaded Charm bracelet designs, Celtic Promise offers a truly original take on this year's charm trend with Memory Bracelets by trendsetting Irish design company Button & Co. These unique Irish charm bracelets were inspired by designer ElaineSarah Comerford mother's rusty old button tin. "The buttons were cut off our baby clothes as we outgrew them, creating a collection of precious memories", says Comerford. The company's sophisticated charm bracelets feature a unique button and needle clasp and can be enhanced with individual button charms from the Celtic Promise range.
Celtic Knot Jewelry – Celtic knots are synonymous with Irish design. With no beginning and no end, the store's finely detailed Celtic knot pendants and rings are symbolic of eternal love – the perfect statement of a mother and child bond. "The Trinity knot design with three interlinked loops makes for a perfect Mother's Day gift", says Hill "as it is a classic representation of the relationship between mother, father and child."
CelticPromise.com showcases Celtic jewelry and contemporary designer jewelry from Ireland's leading designers. The web based company promises 'heritage jewelry with a contemporary twist', and is confident that it offers the perfect gifts with meaning this Mother's Day.
Discover more at CelticPromise.com.
About Celtic Promise
Founded in 2010, online retailer Celtic Promise was started by Irish born entrepreneur Siofra Hill. The website CelticPromise.com promotes the talents of Irish jewelry designers to an International audience. With a product offering of over 700 traditional Celtic jewelry and contemporary Irish jewelry products, Celtic Promise has quickly become one of the leading Irish jewelry companies selling online in the US and Internationally.