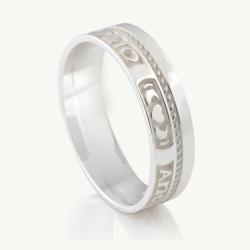 The Irish have always been a nation of storytellers and artists. This is reflected in our hand crafted jewelry - each piece tells a story, making Irish jewelry the perfect gift for Valentine's Day
New York, NY (PRWEB) January 24, 2013
Celtic Promise, the leading online store for fine Celtic jewelry and designer Irish jewelry, announces their pick of love jewelry for Valentine's Day. With almost one in five men saying they would buy valentine jewelry gifts in 2012 (source National Retail Federation), the store aims to maximize on this market by creating a special collection of Valentines Gifts for customers.
"The Irish have always been a nation of storytellers and artists", says Celtic Promise co-founder Siofra Hill. "This is reflected in our hand crafted jewelry - each piece tells a story, making Irish jewelry the perfect choice for Valentine's Day".
Included in the store's Valentine's Gifts collection are unique modern Claddagh designs. The iconic Claddagh is made up of two hands clasping a heart, surmounted by a crown representing love, loyalty and friendship. In addition to the well-known Claddagh Rings, the collection also features a handpicked selection of unique Claddagh pendants and cufflinks.
The ever-popular love heart pendant also receives special treatment at Celtic Promise. The store's Celtic Heart Pendant, featuring a Trinity knot design within a love heart, is symbolic of everlasting love. For those looking for something more contemporary, trendsetting Irish designers Button & Co.'s Lucky Heart pendants and charms make a charming valentine's gift.
For customers in search of a creative Valentine's gift, Hill recommends a piece of personalized Ogham engraved jewelry. "Ogham is an ancient linear script made up of a series of lines", says Hill. "Customers always love the idea of engraving jewelry with a secret, personal message. We once had a customer who engraved 'Marry Me' in ogham on a pendant for his bride to be!"
In addition to the traditional Celtic knot love ring, the store offers exciting range of "Siorai" ring designs by designer Paul O'Neill. Siorai is the gaelic word for 'eternal', with rings from this collection including the 'Forever Love', 'Love of my Heart' and 'Soulmate' ring designs in a choice of silver or gold.
CelticPromise.com showcases Celtic jewelry and contemporary designer jewelry from Ireland's leading designers. The web based company promises 'heritage jewelry with a contemporary twist', and is confident that it offers the perfect gifts with meaning for the one you love this Valentine's day.
Discover more at CelticPromise.com.
About Celtic Promise
Founded in 2010, online retailer Celtic Promise was started by Irish born entrepreneur Siofra Hill. The website CelticPromise.com promotes the talents of Irish jewelry designers to an International audience. With a product offering of over 700 traditional Celtic jewelry and contemporary Irish jewelry products, Celtic Promise has quickly become one of the leading Irish jewelry companies selling online in the US and Internationally.