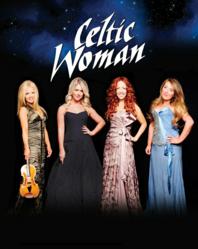 Durham, NC (PRWEB) January 10, 2013
The enchanting Irish musical ensemble Celtic Woman returns to America for an expansive four-month concert tour, including two performances DPAC, Durham Performing Arts Center on April 27. This tour follows on the heels of the group's sold-out Christmas Celebration tour. In addition, Celtic Woman was recently named Billboard Magazine's #1 World Music Artist in their year-end issue. For completed tour schedule and ticket information, visit http://www.celticwoman.com
Tickets for the DPAC performances are available through:
-Online at DPACnc.com
-DPAC Ticket Center: 919.680.2787, 123 Vivian Street, Durham, NC
-Ticketmaster.com / Ticketmaster Charge by phone at 800.745.3000
Celtic Woman combines the talents of four gifted Irish women—vocalists Chloë Agnew, Lisa Lambe and Susan McFadden, and violinist Máiréad Nesbitt—whose dazzling performances combine the sounds and sensibility of Irish traditional music with memorable original compositions and contemporary pop standards. The 2013 tour boasts an exciting new stage production and the return of such enduring fan favorites as "You Raise Me Up" and "Orinoco Flow."
Since its formation in 2004, Celtic Woman has emerged as both a spectacular commercial success and a global cultural phenomenon. The group's uplifting mix of timeless tradition and contemporary craft has transcended national and cultural borders to touch the hearts of a devoted international fan base, who've embraced Celtic Woman's hugely successful Public Television specials and made their CDs and DVDs into multi-platinum best-sellers. The group's albums have sold more than seven million copies around the world. Like all of their albums, Celtic Woman's two 2012 releases, the acclaimed Believe CD/DVD and the holiday-themed CD Home For Christmas, both debuted at #1 on Billboard's World Music chart — marking eight consecutive chart-topping albums for the group.
Celtic Woman recently made their soap opera debut as featured guests in multiple episodes of the CBS daytime drama The Bold and the Beautiful.
Having sold nearly 3 million concert tickets worldwide, Celtic Woman has won a dedicated and loyal audience in America, where their elaborately staged, visually stunning concert tours consistently draw sellout crowds. Singing songs of love, loss, hope and inspiration, Celtic Woman celebrates the emotional resonance of Ireland's centuries-old musical and cultural heritage while taking advantage of the limitless options of state-of-the-art production. The result is a breathtaking musical and theatrical experience to be enjoyed by multiple generations of concert goers.
2013 North American Tour
2/21
Worcester, MA Hanover Theater
2/23-24 Toronto
Sony Centre
2/25
Montreal, QC Place des Arts
2/27
Moncton, NB Casino New Brunswick
2/28
Halifax, NS
Halifax Metro Centre
3/2
Portland, ME Merrill Auditorium
3/3
Amherst, MA Mullins Center
3/5
Binghamton, NY Forum Theatre
3/7
Utica, NY The Stanley
3/8-9 Lancaster, PA
American Music Theatre
3/10
Erie, PA Warner Theatre
3/12
Shippensburg, PA H. Ric Luhrs Performing Arts Center
3/14
Newark, NJ New Jersey Performing Arts Center
3/15
Wallingford, CT Oakdale Theatre
3/16
Boston,MA Wang Theatre
3/17
Manchester, NH Verizon Wireless Arena
3/19
Scranton, PA Cultural Center
3/20
University Park, PA Eisenhower Auditorium
3/22
Providence, RI PPAC
3/23
Greenvale, NY LIU Tilles Center
3/24
Baltimore, MD Hippodrome Theatre
3/26
Pittsburgh, PA Heinz Hall
3/27
Rochester, NY Auditorium Theatre
3/28
Syracuse, NY Landmark Theatre
3/29
Elmira, NY Clemens Center
3/30
Buffalo, NY Shea's Performing Arts Center
4/2
Toledo, OH Stranahan Theatre Great Hall
4/4
East Lansing, MI Wharton Center
4/5
Kalamazoo, MI Miller Auditorium
4/6
Cleveland, OH Palace Theatre
4/7
Fort Wayne, IN Embassy Theater
4/9
South Bend, IN Morris Performing Arts Center
4/11
Sioux Falls, SD Washington Pavilion
4/12
Grand Forks, ND Chester Fritz Auditorium
4/13
Minneapolis, MN Orpheum Theatre
4/14
Milwaukee, WI Milwaukee Theatre
4/16
Des Moines, IA Civic Center
4/18
Indianapolis, IN Murat Theatre
4/19
Chattanooga, TN Memorial Auditorium
4/20
Richmond, KY EKU Center for the Arts
4/21
Springfield, IL Sangamon Auditorium
4/23
Dayton, OH Schuster Performing Arts Center
4/24
Louisville, KY Palace
4/26
Cherokee, NC Harrah's Cherokee
4/27
Durham, NC DPAC
4/28
Charlotte, NC Belk Theatre
4/30
Atlanta, GA Fox Theatre
5/2
Jacksonville, FL Times Union Center
5/3
Savannah, GA John Mercer Theater
5/4
Orlando, FL Bob Carr Performing Arts Center
5/5
Ft. Myers, FL Barbara B. Mann
5/7
Lakeland, FL Lakeland Theater
5/9
Sarasota, FL Van Wezel
5/10
Coral Springs, FL Center for the Arts
5/11
West Palm, FL Kravis Center
5/12
Melbourne, FL King Center
5/14
Columbus, GA River Center
5/16
Oklahoma City, OK Civic Center Music Hall
5/17
Longview, TX Belcher Center
5/18
Dallas, TX Verizon Theatre
5/19
San Antonio, TX Majestic Theatre
5/20
Midland, TX Wagner Noel PAC
5/25
Phoenix, AZ Wild Horse Casino
5/26
Las Vegas Smith Center
5/28-29 San Rafael
Marin Veteran's Memorial Auditorium
5/30
Santa Ynez Chumash Casino
6/1
Portland, OR Arlene Schnitzer Concert Hall
6/2
Vancouver, BC Queen Elizabeth Theatre
6/4
Seattle, WA Paramount Theatre
6/5
Spokane, WA INB Opera House
6/6
Boise, ID Morrison Center
6/8
Rapid City, SD Rushmore Plaza
6/9
Morrison CO Red Rocks
6/11
Omaha, NE Orpheum
6/12
Highland Park, IL Ravinia
6/14
Vienna, VA Wolftrap
6/15
Bethel, NY Bethel Woods Center for the Arts