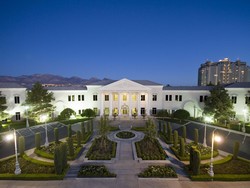 As the recognized authority in age management, Cenegenics is committed to international expansion. Opening Cenegenics India reinforces our position that age management medicine is the future of medicine. We're looking forward to opening more Cenegenics International facilities around the world to accommodate patients worldwide
Las Vegas, NV (PRWEB) December 11, 2008
Cenegenics® International, subsidiary of age-management leader Cenegenics® Medical Institute, is initiating its global expansion campaign by partnering with a group of physicians in India to open an age management medicine center in the Hyderabad metro area. Cenegenics India will begin seeing patients during the first quarter of 2009.
Hailed as the "next medical paradigm," the Cenegenics program offers established protocols that lengthen health span and prevent or delay age-related disease. Their science-based approach has garnered significant media attention, such as 60 Minutes, 20/20, Nightline and GQ, among many others.
"As the recognized authority in age management, Cenegenics is committed to international expansion. Opening Cenegenics India reinforces our position that age management medicine is the future of medicine. We're looking forward to opening more Cenegenics International facilities around the world to accommodate patients worldwide," Mark Newburg, CEO of Cenegenics International, said.
With a population of 6.1 million, Hyderabad is ideal for the inaugural Cenegenics International center. Hyderabad incorporates 12 surrounding municipalities and is the second largest city in India.
The Cenegenics India medical facility -- with a projected 5,000 square feet -- will be designed to treat over 100 new patients annually and house a conference/consultation room, physician offices and exam, diagnostic and VIP rooms.
To ensure expert patient care and adherence to established Cenegenics protocols, local physicians in Hyderabad will be trained at Cenegenics Las Vegas, headquarters for the global giant who also has five other domestic medical centers with more scheduled to open throughout 2009 in major U.S. metropolitan areas.
Partnering with Cenegenics International, Ranjit Koya will work with physicians to expand the practice beyond Hyderabad to other major cities in India. Koya is a seasoned global executive with a successful track record streamlining operations and growing organizations domestically and internationally.
According to Cenegenics International, the Hyderabad center will be the first of many globally --with international expansion already underway for Asia, Europe and North America.
"We are currently in discussion with business partners and physicians in Japan, Korea, China, Singapore, Mexico, Australia, Italy and the European Union," Newburg said.
For more information on Cenegenics' proactive program, visit the site http://www. cenegenics.com and click on the "quick start access" to read the informative Guide to Healthy Aging, Executive Summary and GQ article excerpt. To schedule an interview, please contact Jason Newburg, Director of Marketing & Business Development for Cenegenics International: 702.992.1214 or jnewburg@cenegenics.com.
About Cenegenics
Cenegenics® International LLC is a subsidiary of Cenegenics® Medical Institute, the recognized leading authority in age management medicine. Cenegenics has centers domestically in Las Vegas, Nevada; Charleston, South Carolina; Boca Raton, Florida; Bloomington, Indiana; Dallas/Fort Worth, Texas; Atlanta, Georgia. More new centers are scheduled to open in major U.S. metropolitan areas throughout 2009. With an established presence in the medical community, Cenegenics uses a proactive approach based on solid science and comprehensive evaluation. Their protocols have been hailed as the next generation of medical science, capturing global attention. Cenegenics offers CME-accredited physician training and certification opportunities in age management medicine via the nonprofit Cenegenics Education and Research Foundation (CERF). Headquartered in Las Vegas, Cenegenics serves more than 15,000 patients worldwide -- 1,500 are physicians and their families.
###