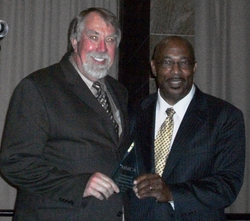 Centennial received the MMCA 2010 Diversity Solutions Award, along with letters of recognition/commendation from both Maryland Senators Benjamin Cardin and Barbara Mikulski.
Baltimore, MD (Vocus) July 19, 2010 —
Terry Dubbs, regional operations manager, accepted the 2010 Diversity Solutions Award from Maryland Minority Contractors Association (MMCA) on Centennial Contractors Enterprises' behalf.
According to the MMCA, the Diversity Solutions Award is given to the organization that historically provides exceptional outreach to the minority contracting community; exhibits consistent inclusion of minority subcontractors that far exceeds goals set by the City of Baltimore and the State of Maryland; empowers minority contractors by supplying strong contacts within the Baltimore business community; helps minority contractors build a stable reputation by providing access to a wider variety of construction projects; provides mentoring and training to assist minority subcontractors in their professional growth; helps minority contractors untangle the often convoluted web of regulations involved when dealing with City and State licening governments; and bridges the gap between minority contractors and governmental institutions in order to better coordinate projects that directly benefit the Baltimore City community.
Centennial received the award, along with letters of recognition/commendation from both Maryland Senators Benjamin Cardin and Barbara Mikulski at MMCA's 2010 Awards Banquet and Summer Soiree at Valley Mansion in Cockeysville, MD July 16th. Centennial was honored with several others, including Governor Martin O'Malley, Congressman Elijah Cummings, Senator Joan Carter Conway and Gilbane.
"Centennial is honored to receive the Diversity Solutions Award from the Maryland Minority Contractors Association," said Dubbs. "The collaborative partnership established with the MMCA and its members ensures that both sides achieve a potential for growth that neither could have realized individually. We are proud of the many successful relationships that have been forged between Centennial and minority contracting organizations – both large and small – over many years in Baltimore."
Centennial has worked on Job Order Contracts in Baltimore and throughout the state of Maryland for over 15 years.
About Centennial Contractors Enterprises
For more than 20 years, Centennial Contractors Enterprises, Inc., has been a leader in providing responsive construction solutions supporting government, educational and business facilities and infrastructures, with projects focused on renovation, rehabilitation and repair including adding sustainable systems into its clients' existing facilities. Centennial has offices throughout Maryland, Washington, DC and Virginia, including its headquarters in Reston. To learn more, go to http://www.cce-inc.com/Maryland . Follow Centennial breaking news on Twitter @CentennialNow.
This news release is available in Centennial's newsroom, http://www.cce-inc.com/news.
# # #