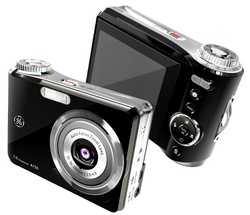 The Micro Center business model reaches a whole new demographic for us
TORRANCE, Calif. (PRWEB) October 8, 2007
"Micro Center stores do a lot of volume and are an important outlet for us," said Hiroshi "Hugh" Komiya, chairman and CEO of General Imaging. "We're excited about adding this retailer to our team."
Micro Center stores have a more upscale feel than typical big-box consumer-electronics stores, offering selection, service and sales staff expertise modeled after Nordstrom and other service-oriented retailers. "The Micro Center business model reaches a whole new demographic for us," said Rene Buhay, General Imaging's senior vice president of sales & marketing for the Americas.
Kevin Jones, vice president of merchandising for Micro Center, said, "The new GE cameras made an immediate impact with our customers. Their feature sets and price points are excellent."
All GE cameras boast sleek and intuitive design, plus a host of popular, advanced functions as standard features, including face detection, image stabilization, red-eye removal, 1600 ISO sensitivity (or higher), and panorama stitching - all of which are embedded in the camera. Panorama stitching is proving to be an especially popular feature, allowing the user to join three images together seamlessly to take in landscapes and other wide vistas.
GE cameras also offer movie mode, continuous-shot mode, and a variety of special scene modes - all at prices far less than many of their competitors.
Even at the entry level, the GE A730 (MSRP just $99.99) includes features one would expect from a much more expensive camera, including 7 megapixels of resolution, a 3x zoom, and a 2.5-inch LCD screen. The A830 ($129.99) is the next step up, offering 8 megapixels and the same specs for zoom and screen size. The G1 ($149.99) offers 7 megapixels, a 3x zoom and a 2.5-inch screen as well, but its drawing card is its ease of handling and pocket-friendly dimensions (35/8 inches wide x 2 1/2 inches high).
The four models in the mid-priced E series offer even more, including even higher resolution, larger zooms, a wide-angle lens, and higher ISO. At the high end of the GE line, the X1 (price TBD) will offer a 12x zoom - great for close-ups when the shooter is far from the action.
About Micro Center
Micro Center operates twenty stores in major markets nationwide. Founded in 1979 in Columbus, Micro Center's distinctive features include:
-- A destination retailer designed to satisfy the dedicated computer user.
-- Uniquely focused on computers and computer-related products. In fact, Micro Center offers more computer and computer-related SKUs (more than 30,000 in stock) than any other retailer.
-- More square footage devoted exclusively to computers and computer-related items than any other retailer (stores average 40,000 square feet).
-- Selection, service and sales staff expertise which surpass all other computer stores.
-- More upscale atmospherics than big box consumer electronics stores.
-- Innovators of the departmentalized approach to computer retailing. Service levels and expertise vary to meet customer preferences by department. This means:
-- Consultative career sales staff in hardware departments which surround staple items in the center of the store.
-- Quick in/out shopping experience on staple items with checkouts arranged conveniently.
-- Large gaming departments featuring XBOX 360, PS3, Wii and PC Gaming displays on HDTVs, more than 2,000 games and nearly 350 different accessories per store.
Readers of the leading U.S. consumer magazine have consistently rated Micro Center among the best stores at which to buy a PC since the publication began surveying satisfaction with computer stores in 2003. Consumers can also purchase online at http://www.microcenter.com.
Micro Center store locations:
CA - Tustin and Santa Clara; CO - Denver; GA - Atlanta (2); IL - Chicago (2); KS - Kansas City; MA - Boston; MD - Rockville (coming soon); MI - Detroit; MN - Minneapolis; NJ - North Jersey; NY - Westbury, LI; OH - Cincinnati, Cleveland, Columbus; PA - Philadelphia; TX - Dallas, Houston; VA - Fairfax.
About General Imaging
An independent new company based in Torrance, Calif., General Imaging unveiled eight cameras on March 8 during PMA 07, the leading industry photographic trade show in Las Vegas. More information about GE cameras is available at http://www.ge.com/digitalcameras.