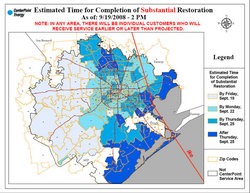 Our first move was to assess the damage. We had our helicopter service in the air Saturday afternoon and our crews were starting to get to the substations.
Redlands, CA (PRWEB) August 4, 2009
As Hurricane Ike's 110-mile-per-hour winds pounded buildings, trees, and electric infrastructure in September 2008, Houston-based CenterPoint Energy braced for the aftermath with an outage operations application built on ESRI's geographic information system (GIS) technology. Within 10 days of Ike's devastating landfall in Galveston, Texas, CenterPoint had restored service to 75 percent of the 2.15 million customers who lost power. The utility also used GIS to create maps of damaged areas and share the information with customers, media, government, and support agencies. In recognition of the tremendous response efforts, ESRI president Jack Dangermond presented an Enterprise Application Award to Cindi Salas, director of land and field services for CenterPoint Energy, at the 2009 ESRI International User Conference.
"Once the storm hit, we'd done all our preparation," said Salas. "Our first move was to assess the damage. We had our helicopter service in the air Saturday afternoon and our crews were starting to get to the substations."
Using GIS-based damage prediction models, CenterPoint approximated how many customers would lose power, what the infrastructure damage would be, and how quickly repairs could be made. As the hurricane churned its way toward Texas, CenterPoint placed a supply order based on predicted damages so crews would be fully stocked and ready to make repairs once the storm subsided. Since the damage model warned that Galveston Island would soon be under water, CenterPoint pulled supplies from the area and relocated crews.
Posthurricane imagery was made available via ESRI's ArcGIS Online Services, which supplied ready-to-use content that could easily integrate with other data for decision support. The national security layer of the utility's maps helped determine high-priority restoration sites such as water treatment plants, pipelines, and shipping channels. The Federal Emergency Management Agency (FEMA) used the maps to position water and food supplies in areas estimated to have delayed power restoration.
"The maps were absolutely necessary," Salas said. "Call center volume would go down to a more manageable level once the maps were published on the Web site. We prepared the same types of maps for press conferences so people could understand what we were doing. Internally, our GIS-based maps allowed us to judge our progress."
To view video coverage of the 2009 ESRI International User Conference Plenary Session, including the award presentations, visit http://www.esri.com/ucplenary.
About ESRI
Since 1969, ESRI has been giving customers around the world the power to think and plan geographically. The market leader in GIS, ESRI software is used in more than 300,000 organizations worldwide including each of the 200 largest cities in the United States, most national governments, more than two-thirds of Fortune 500 companies, and more than 7,000 colleges and universities. ESRI applications, running on more than one million desktops and thousands of Web and enterprise servers, provide the backbone for the world's mapping and spatial analysis. ESRI is the only vendor that provides complete technical solutions for desktop, mobile, server, and Internet platforms. Visit us at http://www.esri.com.
ESRI, the ESRI globe logo, GIS by ESRI, ArcGIS, http://www.esri.com, and @esri.com are trademarks, registered trademarks, or service marks of ESRI in the United States, the European Community, or certain other jurisdictions. Other companies and products mentioned herein may be trademarks or registered trademarks of their respective trademark owners.
###