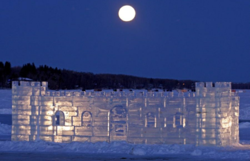 The Red Deer and Sylvan Lake region makes a perfect second home setting for those that have a soft spot for winter wonderlands.
Red Deer, AB, Canada (PRWEB) November 22, 2012
Early snowfall warnings are extended for central to southern Alberta towards Montana on November 21st and are expected to last into the immediate future. However many see this as a positive. Local ski resorts stretching from the powdered white rolling hills of the Canyon Ski Resort in Red Deer out to the Canadian Rockies at Nakiska Ski Resort or world renowned Lake Louise only three to four hours away from Red Deer get to open early this season. Resident ski bunnies and bums are ecstatic and with each passing season it seems that the number of days of the year one can spend on the runs increases. Even for those that prefer to enjoy the winter in more casual endeavors such as snowshoeing, ice fishing, or even through the windows from the comforts of a fireplace lit backdrop welcome the early snowfall of Central Alberta.
In addition to, or perhaps partly because of the thriving winter activities, community, economy and scenery of the region, the luxury real estate market for Central Alberta remains attractive to prospects from south of the border and around the world. The Real Estate Investment Network along with Kevin Lapp, a prominent figure in Central Alberta real estate, acknowledges that Red Deer and Sylvan Lake is counted among the top Alberta investment towns. While many are drawn to luxury homes in Sylvan Lake near Red Deer for summertime vacation property on the lake, the winter receives plenty of attention as a second home prospect by those that have a penchant for the season. Not everyone favors 80 degree humidity and sandy beaches over crisp air and powdery snow.
Kevin Lapp, Red Deer luxury real estate team leader, comments "We receive a lot of inquiries about vacation properties, second homes, or even primary home purchases from individuals looking to immerse themselves in the winter culture of Central Alberta. When many picture the vacation home concept they tend to conjure up images of palm fringed homes near bathwater warm ocean fronts. However there are many households out there that embrace locations with dramatically changing seasons so that they can enjoy all that rich snowfall has to offer. The Red Deer and Sylvan Lake region makes a perfect second home setting for those that have a soft spot for winter wonderlands. Our team can't imagine any other place them and their families to reside during both the holiday season and remaining months of winter."
Kevin Lapp and his Red Deer and Sylvan Lake luxury real estate team encourage anyone considering a second home or vacation property in a location separate from the ordinary tropical escape to view Red Deer and Sylvan Lake Luxury Homes when looking at their personal map of options.
ABOUT The Kevin Lapp Red Deer Real Estate Team
The Kevin Lapp Real Estate Team is a handpicked team of real estate professionals put in place to cover every aspect of the process so that the client, whether buying or selling a home, has complete confidence that they are in the best of hands. Equipped with industry leading methods such as Maximum Exposure Advertising initiatives and Guaranteed Sale Programs, the Kevin Lapp Real Estate Team offers unparalleled client service for anyone buying or selling a home in the Red Deer region. Contact our Red Deer Real Estate Team today.