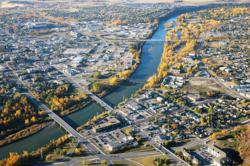 This is reminiscent of the old west boomtowns and we're already here to stake the claim for projected homeowners. All they have to do is show up.
Red Deer, AB, Canada (PRWEB) January 11, 2013
Alberta's Ministry of Finance released their annual Indicators at a Glance document this past January 4, 2013. The document reflecting the Alberta economy is a summation of things that many industry experts already know. It's no secret that the oil sands and energy rich region of Central Alberta Canada is an economic model of success. The energy sector has sparked a demand for skilled labor from across the country and border. To attract the best candidates, wages have increased significantly to the date of this month's report which accounts for the report of increased consumer spending above the national average. This served to also boost the retail industry in 2012, which opened up more jobs in yet another sector, attracting further population growth for the year ahead. In 2013 this immediate pattern is expected to continue. Kevin Lapp, prominent Red Deer real estate team leader analyzed this report which tells of things to come for both his new development business and community of Red Deer / Sylvan Lake within the next few months.
The January 4th report quotes a recent population rate increase of nearly 3 %. Continuation along this expected path will result in approximately 1 million new Alberta residents arriving within ten years. The city of Edmonton has a current population count of 817,498 and the city Calgary holds 1,120,225. Thus the numbers from this week's report indicate that a population of either the size of the provinces two biggest cities will be moving in. With the major metropolises nearing infrastructure capacity nearby townships and cities today are preparing for population spillover in 2013. Fortunately for Kevin Lapp, his real estate team business is now ready to receive more than their share of new home owners with both existing properties and new construction developments.
To date, Kevin Lapp's Red Deer Real Estate team holds more new Central Alberta real estate listings than many area residential agents and in addition has introduced new construction homes in Red Deer, Sylvan Lake, and other communities impacted by the population boom. The rise in skilled and well paid executives from the U.S. migrating to Central Alberta has also sparked the area's luxury home market and Kevin Lapp has decided to allocate renewed focus for 2013 on the region's resort community with his Sylvan Lake luxury homes. In addition, for the first time the Red Deer real estate team is a partner in a new luxury home development project that begins building this spring of 2013.
Kevin Lapp comments on the economic boom of Central Alberta as it relates to his Red Deer real estate business today "We're all excited. Sure there are times where the lack of infrastructure is trying for those in the bigger cities, especially when they get stuck in traffic, but the metropolises are surrounded by quaint yet burgeoning communities ready to accept that growth. You simply can't argue with progress. Our real estate team is doing its part to help grow the community and to welcome new residents into our fold for 2013 and beyond. This is reminiscent of the old west boomtowns and we're already here to stake the claim for projected homeowners. All they have to do is show up."
Kevin Lapp and his Red Deer real estate team encourage anyone considering a move to Central Alberta or looking to invest in properties that will have no issue in filling vacancies to regard Red Deer and Sylvan Lake Homes as a first option.
ABOUT The Kevin Lapp Red Deer Real Estate Team
The Kevin Lapp Real Estate Team is a handpicked team of real estate professionals put in place to cover every aspect of the process so that the client, whether buying or selling a home, has complete confidence that they are in the best of hands. Equipped with industry leading methods such as Maximum Exposure Advertising initiatives and Guaranteed Sale Programs, the Kevin Lapp Real Estate Team offers unparalleled client service for anyone buying or selling a home in the Red Deer region. Contact our Red Deer Real Estate Team today.