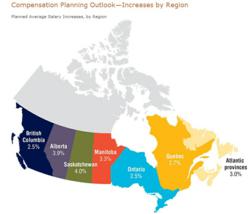 We are dedicated to fulfilling the perceived promise made by the province of Alberta that a better life can be found within our borders.
Red Deer, AB, Canada —
February 13, 2013 (PRWEB) February 13, 2013 -- The Conference Board of Canada released a report today detailing Planned Average Salary Increases for the country. Two provinces posted significantly above average results – Saskatchewan and Alberta. Both provinces evidenced an approximate four percent increase in salary gains accounting for a relative disparity between themselves and the rest of the country. Natural resources can be credited to this continued localized phenomenon as oil and gas are the key ingredients to the economic success of both Canadian provinces. With a healthy supply of these natural resources in this portion of western Canada it is expected that this trend will continue. For that reason, Kevin Lapp of Red Deer real estate renown recognizes that skilled labor from all over North America will look towards Central Alberta in particular as a primary target to start a new life. Entire households often accompany many of them.
Central Alberta is at the heart of the economic boom that made news of this week's Conference Board of Canada report. The regional proximity to oilfields and natural gas resources is of course the biggest reason that Central Alberta will likely maintain its high demand for skilled labor. This adds to the increased interest in the region as a new home for many. Kevin Lapp also sites other factors that play into the psyche of those now considering a change in address. Next door neighbor Saskatchewan may technically lead Alberta by one percent in salary increases but Kevin Lapp is quick to state that Central Alberta is simply a far more attractive relocation option. The proximity of desired real estate communities such as Sylvan Lake and Red Deer to metropolitan hubs of both Calgary and Edmonton mean that new residents coming from large cities either in Canada or the U.S. won't feel the same regional isolation that they may experience in Saskatchewan. Calgary and Edmonton continue to expand in 2013 while real estate in Red Deer remains attractive. With Alberta's salaries on the rise, a best case scenario is presented for those considering purchasing Red Deer real estate while commuting to high paying jobs within or outside of their direct community. Kevin Lapp believes an accompanying increase in disposable income can be better enjoyed in Central Alberta versus Saskatchewan and thus presents his Red Deer real estate team with another strategy to convince transplants that the Red Deer and Sylvan Lake area are the best options for those looking to relocate to Central Alberta.
Kevin Lapp and his Red Deer real estate team use their website and social networks to promote not only real estate in Red Deer, but to showcase the entire region (activities, attractions, schools, etc…) from Sylvan Lake to Blackfalds. They also provide full real estate services for new residents feeling overwhelmed by the process. If a household is considering a move from the oilfields of Texas to the oilfields of Central Alberta, Kevin Lapp and his team will walk them through every step until they are nestled into their new home. Kevin Lapp comments "We are dedicated to fulfilling the perceived promise made by the province of Alberta that a better life can be found within our borders. The economic model has been built for success and our team is here to close the deal to bring skilled workers and their families into Central Alberta by placing them in their dream home in a dream community."
Kevin Lapp's real estate team holds more new Central Alberta real estate listings than many area residential real estate professionals and can accommodate households of all sizes coming to take advantage of the pay raise that the region offers. Anyone considering this step is encouraged to contact this Red Deer real estate team early on to alleviate much of the stress involved in making such a big transition.
ABOUT The Kevin Lapp Red Deer Real Estate Team
The Kevin Lapp Real Estate Team is a handpicked team of real estate professionals put in place to cover every aspect of the process so that the client, whether buying or selling a home, has complete confidence that they are in the best of hands. Equipped with industry leading methods such as Maximum Exposure Advertising initiatives and Guaranteed Sale Programs, the Kevin Lapp Real Estate Team offers unparalleled client service for anyone buying or selling a home in the Red Deer region. Contact our Red Deer Real Estate Team today.