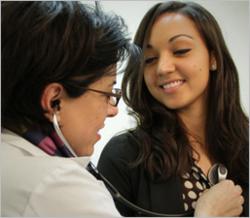 "A pelvic exam is a 'check-up' of your vagina, cervix, uterus and ovaries. This exam should be performed every year to check for abnormalities including infection, irritation and sexually transmitted infections." - Dr. Farideh Zadeh
Lake Mary, FL (PRWEB) August 07, 2012
According to USA Today, American College of Obstetricians and Gynecologists recently updated it's guidelines, encouraging women to keep coming in for annual "well woman" exams. They agree that even if these visits do not include a Pap test for cervical cancer, the visit should still include a pelvic exam to check for developing signs of cervical cancer. This timely recommendation coincides with new federal rules that now require insurance companies to fully cover annual physician checkups for women. Health advocates, including the physicians of Central Florida, hope that this new mandate will increase annual visits and decrease late detection of cervical cancer.
Why Annual Pelvic Exams are Necessary:
Pap smears and pelvic exams are often performed at the same time, but they are not the same thing. When a doctor performs a Pap, they collect a sample of cells which they screen for cervical cancer, sexually transmitted diseases and infections. Healthy women may only need them every two to five years. On the other hand, pelvic exams should be thought of as "check-ups," and should be performed annually with or without a Pap.
Farideh Zadeh, Board Certified Internist at SunState Medical Associates, commented on the necessity of this exam, "A pelvic exam is a 'check-up' of your vagina, cervix, uterus and ovaries. This exam should be performed every year to check for abnormalities including infection, irritation and sexually transmitted infections. Even if you forego a Pap smear, you need to get a pelvic exam every year to ensure early detection and diagnosis if an issue arises." Dr. Zadeh hopes that news of this new addition to health care law will increase awareness of the issue and motivate female patients to make annual checkups and pelvic exams a health priority.
About SunState Medical Associates:
SunState Medical Associates specialize in internal medicine and handle a wide spectrum of medical concerns, from the common cold to diabetes to heart disease. These Sanford physicians also provide regular preventative care visits such as physicals, Pap smears and adult check-ups. SunState Medical clinic is a private practice group of three physicians specializing in Internal Medicine.
Each of their physicians is board certified American Board of Internal Medicine, which means that patients will get knowledgeable, up to date care for any medical concern they may have. Physicians not only provide primary care, but are also adept at coordinating patient care if the patient sees multiple specialists or have several medical conditions.
For more information on SunState Medical Associates please call 407-333-3303 or visit http://www.lakemaryphysicians.com/.
###