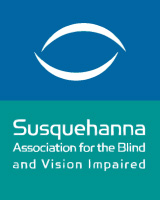 Harrisburg, Pa (PRWEB) December 31, 2012
The JFC Staffing Companies, Central Pa's leading staffing agency, are pleased to announce their 2013 Corporate Charity, The Susquehanna Association for the Blind and Vision Impaired (SABVI).
The Susquehanna Foundation for the Blind and Vision Impaired is the fundraising arm of SABVI. It is the mission of the Foundation to create breakthrough opportunities in education and employment for people who are blind.
For more than 85 years, Susquehanna Association for the Blind and Vision Impaired (SABVI) has been helping restore autonomy and independence to the lives of Pennsylvania residents who are blind or vision impaired. From education and prevention, to rehabilitation and employment, SABVI takes a comprehensive approach to services. SABVI currently has a presence in Lancaster, Lebanon, Berks, Chester, Somerset, Cumberland and Philadelphia counties.
SABVI offers services to people with low vision and people who are legally blind. Services provided include: daily living skills instruction (cooking, cleaning, and adaptive techniques), support groups, safe and independent travel instruction and comprehensive case management to more than 2000 clients. SABVI also houses a low vision resource center and the Steinman Eye Clinic. SABVI staff is available to provide preventative services, vision screenings and speaking engagements to educate the public on vision loss.
The goals for the JFC Staffing Companies' initiative with SABVI will center around helping raise funds for the Foundation by supporting SABVI's planned events to be held throughout the region and creating awareness for this amazing organization through various marketing efforts, shared resources with clients, business associates, friends and family members.
About The JFC Staffing Companies:
Founded in 1975, The JFC Staffing Companies, with offices throughout Central Pennsylvania, are comprised of full-service, temporary staffing and professional search firms that help individuals by catering to both workers seeking employment and employers seeking workers. JFC is well known for their specialized recruiting, customer relationships and responsiveness. JFC's experienced recruiters offer their expertise to match qualified job seekers with employers through innovative, cutting-edge service and value-added programs that led area business journals to name The JFC Staffing Companies the #1 independent staffing firm in the Central PA region.
JFC Temps offers a huge variety of office support jobs, including secretaries, receptionists, telemarketers, data entry operators, customer service representatives and administrative assistants. In the light industrial and skilled labor fields, JFC offers inventory control, production, assemblers, quality assurance, bindery, electricians, maintenance technicians, HVAC techs and more on a temporary, temp to hire and permanent basis.
JFC Global focuses on information technology, accounting, finance and engineering and staffs positions on both a contract and permanent basis. JFC Global has received the WBE certification through the Department of General Services of PA.
JFC Medical fills many healthcare jobs in Central PA including executive healthcare as well as physicians, RNs, LPNs, medical support positions, medical assistants, medical billers, medical receptionists, and medical secretaries.
JFC Skilled Trades focuses on recruiting skilled labor for both temporary and permanent positions. Positions are currently open for CNC machinists, welders, electricians, maintenance technicians, and HVAC Technicians.
The JFC Staffing Companies have six convenient locations in Central Pennsylvania.
Camp Hill Office - 717-761-8095
Carlisle Office - 717-243-4475
Chambersburg Office - 717-709-9675
Harrisburg Office - 717-657-4923
Lancaster Office - 717-399-6474
York Office - 717-755-3100