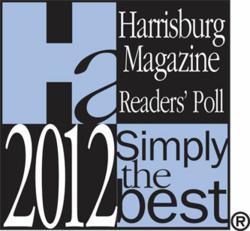 Knowing that this award comes from the community that we serve, makes this an extra special honor for us.
Harrisburg, PA (PRWEB) August 07, 2012
For the sixth consecutive year, the JFC Staffing Companies have been named 2012 Simply the Best staffing service by Harrisburg Magazine. The announcement can be found in the August 2012 Simply the Best issue of the magazine. Readers selected JFC over other area staffing services to receive this top place recognition. The JFC Staffing Companies credit the award to the superior customer service of their staff and the positive impact their business has on local economy. Jim Carchidi, Executive Vice President for the JFC Staffing Companies, commented, "knowing that this award comes from the community that we serve, makes this an extra special honor for us."
JFC has offices in Camp Hill, Harrisburg, York, Lancaster, Carlisle and Chambersburg. JFC helps place both temporary and permanent employees, as well as cater to both workers seeking employment and employers seeking employees to fill their job openings within the Central Pennsylvania region and across the nation. The JFC Staffing Companies are comprised of several niche-focused recruiting groups:
JFC Temps offers a huge variety of office support positions, including secretaries, receptionists, customer service representatives and administrative assistants. In the light industrial field, JFC offers inventory control, production, assemblers, quality assurance, bindery, food service, line leads, supervisors and more.
JFC Skilled Trades focuses on recruiting skilled labor for both temporary and permanent positions. Positions are currently open for CNC machinists, welders, electricians, maintenance technicians, and HVAC Technicians.
JFC Global focuses on information technology, accounting, and engineering and staffs positions on both a contract and permanent basis. JFC Global has received the WBE certification through the Department of General Services of PA, and was recently recognized by the Central PA Business Journal as one of Central PA's Top 50 Fastest Growing Companies in 2012.
JFC Medical fills many positions in the healthcare field. They fill executive healthcare as well as physicians, RNs, LPNs, and medical support positions like medical assistants, and medical billers.
The JFC Staffing Companies were established in 1975, and are made up of full-service, temporary staffing and professional search firms. JFC has innovative, cutting-edge services and value-added programs that have lead to area business journals listing JFC as the #1 independent staffing firm in the region. JFC is well known for their specialized recruiting and relationships with their customers. Experienced recruiters offer their expertise to match qualified job seekers with employers.
JFC Staffing has six convenient locations in Pennsylvania.
Camp Hill Office - 717-761-8095
Carlisle Office - 717-243-4475
Chambersburg Office - 717-709-9675
Harrisburg Office - 717-657-4923
Lancaster Office - 717-399-6474
York Office - 717-755-3100
When you think jobs - think JFC!