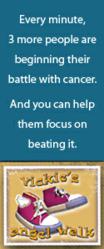 Every minute, 3 more people are beginning their battle with cancer. And you can help them focus on beating it.
Harrisburg, Pa (PRWEB) November 30, 2011
The employees of the JFC Staffing Companies made a difference this year by supporting Vickie's Angel Walk, Inc., the official charity of the JFC Staffing Companies for 2011. Vickie's Angel Walk is a 501c3 non-profit with a mission of helping families fighting cancer who have difficulties paying their bills during the challenging times of fighting their cancer. This year, the employees of the JFC Staffing Companies have raised over $7,000 in support of their goal to remove the financial stress from families dealing with cancer; allowing cancer patients and their families to focus on recovery.
Vickie's Angel Walk supports cancer families in Central PA, York, Dauphin, Lancaster, Cumberland, Perry, Adams and Lebanon counties. In addition to their monetary contribution, the employees of the JFC Staffing Companies, donated their time to volunteer at events, supplied office support help, assisted with resume writing and interview advice for family members and provided job search assistance for family members to get back to work.
The JFC Staffing Companies, with offices throughout Central Pennsylvania, help place both temporary and permanent employees by catering to both workers seeking employment and employers seeking workers.
JFC Temps offers a huge variety of jobs in Central Pa, including office support jobs, secretaries, receptionists, telemarketers, data entry operators, customer service representatives and administrative assistants. In the light industrial and skilled labor fields, JFC offers inventory control, production, assemblers, quality assurance, bindery, food service, line leads, supervisors and more. JFC Temps recently added skilled labor recruiting to their business and is now recruiting and placing CNC machinists, welders, electricians, maintenance technicians, HVAC techs and plumbers on a temporary, temporary to hire and permanent basis.
JFC Global focuses on information technology, accounting, finance and engineering and staffs positions on both a contract and permanent basis. JFC Global has received the WBE certification through the Department of General Services of PA.
JFC Medical fills many healthcare jobs in Central Pa including executive healthcare as well as physicians, RNs, LPNs, and medical support positions like medical assistants, medical billers, medical receptionists, and medical secretaries.
The JFC Staffing Companies were established in 1975, and are made up of full-service, temporary staffing and professional search firms. JFC has innovative, cutting-edge services and value-added programs that have resulted in area business journals ranking JFC as the #1 independent staffing firm in the region. JFC is well known for their specialized recruiting and relationships with their customers. Experienced recruiters offer their expertise to match qualified job seekers with employers.
The JFC Staffing Companies have six convenient locations in Central Pennsylvania.
Camp Hill Office - 717-761-8095
Carlisle Office - 717-243-4475
Chambersburg Office - 717-709-9675
Harrisburg Office - 717-657-4923
Lancaster Office - 717-399-6474
York Office - 717-755-3100
###