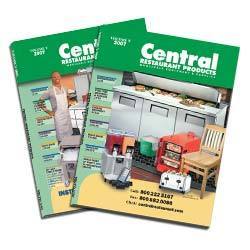 Indianapolis, IN (PRWEB) September 11, 2007
The new Central Restaurant Product catalogs will be in mailboxes beginning Wednesday, September 10.
This mailing will include two different editions - one aimed toward institutions and one toward restaurants. Each catalog will feature a selection of products specifically chosen as top picks for either institutions or restaurants.
Schools, hospitals and correctional facilities will receive the institutional edition catalog. In this edition, products include those necessary to cook and prepare foods for a large number of people. Featured products are large-capacity ingredient bins, polycarbonate dinnerware, steamers, planetary mixers and blast chillers.
Restaurants and all other businesses will receive the restaurant edition catalog. This edition features products chosen specifically for completing kitchen and dining areas. The catalog includes products like toasters, paging systems, floor matting, food pan carriers and indoor and outdoor dining furniture.
Both editions feature nearly 300 pages, over 14,000 products, two pages of brand-new items in the foodservice industry and tips and tricks from experienced Product Consultants.
Customers in the institutional or restaurant industries both receive the same benefits when ordering from Central's catalog. Central gives free freight on over 500 items, offers affordable lease options on equipment, features free online chat for questions and concerns, operates a bilingual hotline to assist Spanish-speaking customers and ships most stock items ordered before 4 p.m. EST.
Request a copy of the latest catalog at Central Restaurant Products
About Central Restaurant Products:
Central Products opened in 1981 near downtown Indianapolis and has grown to become one of the nation's leading distributors of quality commercial restaurant equipment and supplies. Central's knowledgeable Product Consultants with industry experience are available during convenient hours--phone lines are open for business Monday through Friday, 8 a.m. to 8 p.m. EST and Saturday, 9 a.m. to 1 p.m. EST. They can be reached at 800.222.5107. Shop online; request a catalog or sign up for e-mail promotions at Central Restaurant Products
Contact:
Jorja Loughmiller, Copywriter
Central Restaurant Products
317.876.1010 ext. 8253
Central Restaurant Products
7750 Georgetown Rd.
Indianapolis, IN 46268
800.222.5107 (phone)
317.337.1100 (fax)
Central Restaurant Products
###