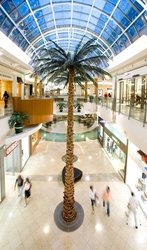 With its vast selection of upscale retailers, combined with its incomparable onsite services and amenities, The Mall at Millenia provides guests with the ultimate shopping experience.
Orlando, FL (Vocus) September 18, 2007
There are even more reasons to visit Central Florida's most fashionable attraction during a visit to Orlando this fall and holiday season, including a $13,000 VIP shopping experience fit for a jetsetter, an abundance of upscale and moderate gift options, as well as one of the state's most elegant holiday displays.
Whether travelers own a private jet or just wish they did, The Mall at Millenia is the ultimate shopping destination located in the heart of one of the nation's most popular vacation havens. The distinctive Mall at Millenia offers a wide selection of upscale stores that cater to discriminating shoppers looking for the perfect gift or the season's must-have item. Much, much more than the typical hometown shopping mall, The Mall at Millenia boasts an amazing selection of luxury retailers, such as Chanel, Gucci, Louis Vuitton and Tiffany & Co. (many of which offer personal shoppers and private consultations), combined with unique décor and finishes that accentuate the Mall's upscale atmosphere. The center also features two onsite salons and numerous popular restaurants, including The Cheesecake Factory, P.F. Chang's China Bistro, Brio Tuscan Grille and Blue Martini.
"The Mall at Millenia offers gift buyers a shopping destination on-par with that of New York, Paris or Milan," said Brenda Lounsberry, marketing director for The Mall at Millenia. "With its vast selection of upscale retailers, combined with its incomparable onsite services and amenities, The Mall at Millenia provides guests with the ultimate shopping experience."
Beyond its luxury stores and dining options, The Mall at Millenia features upscale design elements that lend an air of sophistication to the shopping experience, including a gently curved, S-shaped concourse vaulted end-to-end with skylights, as well as innovative uses of water and technology. The center also features spectacular seasonal displays, including the holiday shopping season's elegantly handcrafted decorations, which were commissioned by and created specifically for The Mall at Millenia.
Upcoming Events and Packages
The Mall at Millenia will host its 2nd Annual Fashion Week from Oct. 22-27, giving guests the opportunity to view the newest fall and spring fashion trends hot off the runways of Milan, Paris and New York. With in-store trunk shows, pre-season samples and an open-to-the-public fashion show, fashionistas will delight in all that The Mall at Millenia has to offer during its week-long celebration.
Plus, for those discriminating jetsetters searching for the ideal gift for themselves or the fashionista in their life, the Mall's You've Been Good for Goodness Sake ultimate holiday shopping package combines upscale accommodations and travel experiences with The Mall at Millenia's emphasis on personal attention, luxury retailers and diverse restaurants.
The experience begins with a journey on a private jet to Orlando. Once they arrive in Central Florida, shoppers will check-in to a suite at the luxurious Grand Bohemian Hotel, complete with welcome cocktails, complimentary "his and her" robes, luxury gift basket and a goodnight "his and her" massage. Next, guests will be whisked away by a chauffeured stretch limo to The Mall at Millenia where guests will receive a personal welcome and complimentary holiday stocking filled with upscale goodies from the Mall's designer retailers.
After a personalized make-over at MAC Cosmetics, guests will meet with a personal shopper at both Gucci and Jimmy Choo where they will have the opportunity to try on the latest styles and coordinate the newest accessories. To ensure that shoppers keep their energy levels up during their day of pampering and personal attention, guests will be treated to lunch and a champagne toast at Brio Tuscan Grille, where they can also choose from a selection of the restaurant's finest wines. Finally, shoppers can kick back and relax after a day of shopping as they are ushered through the VIP entrance at Blue Martini for complimentary cocktails.
The You've Been Good for Goodness Sake package is based on double occupancy and starts at $13,000. For more information or arrangements, please contact The Mall at Millenia's tourism marketing manager at (407) 363-3555. Flight restrictions may apply and price is based on distance from Orlando. Package must be booked at least five days prior to departure.
To learn more about The Mall at Millenia and the shopping experiences offered at Orlando's premier shopping destination, please visit http://www.mallatmillenia.com or call (407) 363-3555.
About The Mall at Millenia:
The Mall at Millenia, a world-class shopping destination with more than 150 shops, services and eateries, offers Orlando residents and visitors a dazzling experience unmatched in the marketplace. In addition to internationally recognized department stores, a well-rounded tenant mix and a line-up of nationally successful restaurants and eclectic eateries, The Mall at Millenia is further distinguished by its dramatic architecture, innovative uses of water and technology, and exemplary guest-friendly amenities and services.
About The Forbes Company:
Based in Southfield, Mich., The Forbes Company is a nationally recognized owner, developer and manager of distinctive regional shopping centers that provide exceptional retail experiences in each of their respective markets. Taubman Centers, Inc. (NYSE: TCO), a real estate investments trust, owns, develops, acquires and operates regional shopping centers nationally. Taubman Centers currently owns and/or manages 22 urban and suburban regional and super regional shopping centers in 10 states. Taubman Centers is headquartered in Bloomfield Hills, Mich.
###