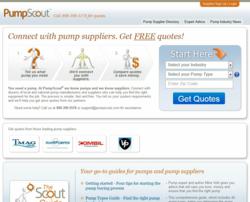 PumpScout.com's latest partnership with T-Mag gives buyers more options for mag drive pump price quotes.
Tacoma, WA (PRWEB) September 25, 2012
Pump buyers can now get price quotes on a range of mag drive pumps thanks to PumpScout.com's new partnership with T-Mag Magnetic Drive Pumps.
"This is great news for buyers looking for mag drive and other types of industrial pumps," says Justin Johnson, co-founder and CEO. "Adding T-Mag to our line-up of suppliers gives buyers more options for quotes, and access to the great pump products that T-Mag provides."
The Wisconsin company is one of dozens of pump suppliers working with PumpScout.com, an online industrial pump search engine that connects buyers with pump suppliers and provides them with price quotes.
PumpScout.com invites buyers to enter information about the type of pump they're looking for into an easy-to-use quote wizard. The site then provides not only a list of companies that offer the appropriate pump – but it also lets the buyers immediately request a price quote.
The process takes minutes, and the service is free.
"PumpScout.com streamlines the pump buying process," Johnson says. "We take the guesswork out of finding the right pump for your job, and then we provide an easy way to shop for the pump you need and compare prices."
T-Mag specializes in magnetic drive pumps, which are driven by magnetic force instead of being directly coupled to a motor. This eliminates the mechanical shaft seal required by conventional pumps. It also means the pump is completely leak proof – making them ideal for transferring chemicals and liquids that should not come in contact with the environment. Mag drive pumps can also be a good option in situations where maintaining a mechanical seal is difficult or expensive.
T-Mag, which has earned several patents for its technological innovations, manufactures the AM and AMX series of magnetic drive pumps. The pumps are specifically designed and constructed to transfer acids, alkalis, hydrocarbons, heat transfer oils, liquid gases, and toxic and explosive chemicals. The company's pumps are also used to move low viscosity surfactants, acids, and CIP chemicals in the pharmaceutical and cosmetic industries.
About PumpScout.com
PumpScout.com is a pump search engine featuring more than 170 companies and their product lines. PumpScout.com connects pump buyers with pump manufacturers and distributors, and provides them with quotes.
PumpScout.com is the pump buyer's single source for pump suppliers and consumer information, tools and tips on buying and maintaining all kinds of industrial pumps. For more information visit PumpScout.com.