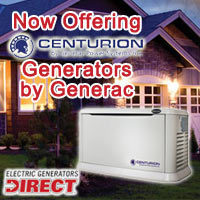 Centurion generators are manufactured with Generac OHVI engines, the only engine designed specifically for use in electric generators, so they run quieter, more efficiently, and longer-lasting than other brands
Bolingbrook, IL (Vocus) July 16, 2010
ElectricGeneratorsDirect.com announced the expansion of its product offering with the addition of Centurion generators.
With the inclusion of this new brand, the online superstore now offers a wider selection of home standby generators.
"Centurion generators are manufactured with Generac OHVI engines, the only engine designed specifically for use in electric generators, so they run quieter, more efficiently, and longer-lasting than other brands," said Jim Baugher, resident product expert at Electric Generators Direct.
ElectricGeneratorsDirect.com is an online superstore specializing in electric generators and offers more than 50 models of home standby generators, ranging in power from the ability to electrify only essential circuits, to the ability to power an entire home, including the air conditioner, in the event of an electrical failure.
In addition to carrying Centurion generators, ElectricGeneratorsDirect.com also carries a full line of Briggs & Stratton, Generac, Honeywell, Kohler and Winco generators, as well as a complete assortment of transfer switches and other generator accessories.
Power Equipment Direct operates nine niche online superstores. In addition to ElectricGeneratorsDirect.com, the Bolingbrook, IL-based company operates AirCompressorsDirect.com, PressureWashersDirect.com, SnowBlowersDirect.com, MowersDirect.com, WaterPumpsDirect.com, SumpPumpsDirect.com, ChainSawsDirect.com and LogSplittersDirect.com
###