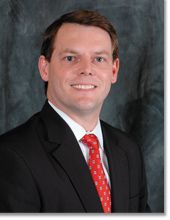 North Myrtle Beach, SC (PRWEB) July 26, 2011
CENTURY 21 Thomas Real Estate, a leading Real Estate and Professional Vacation Rental firm headquartered in North Myrtle Beach, South Carolina is proud to announce that Teddy Smith (pictured), Director of Operations, has been accepted in Leadership Grand Strand Class XXXII.
The goal of the Leadership Grand Strand program, sponsored by the Myrtle Beach Area Chamber of Commerce, is to develop a corps of informed, committed and qualified individuals capable of providing dynamic leadership for the Grand Strand area.
Under Teddy Smith's leadership, the CENTURY 21 Thomas team, with Hank Thomas as Broker-in-charge, has consistently ranked as one of the "Top Three" CENTURY 21® offices in North and South Carolina.
Coming from a family rooted in the North Myrtle Beach area since 1986, Teddy Smith is constantly involved and active in the local community. Teddy believes in providing the best service based on honesty, maximum effort, attention to detail, and total dedication.
"I'm very excited about this opportunity to learn and grow as a leader in our community. It is an honor to be selected," said Teddy.
The Leadership Grand Strand program explores topics such as historical aspects of the Grand Strand, tourism and economic development, education and law enforcement, human services, government and politics, and the arts. Participants work together with local leaders to expand their network of contacts and resources, to increase their breadth of knowledge about the community and to develop leadership skills.
About CENTURY 21 Thomas
CENTURY 21 Thomas, established in 1962, is North Myrtle Beach's oldest full-service real estate agency and vacation rental management company. CENTURY 21 Thomas lists and handles the sale and purchase of retirement properties, vacation homes and condominiums, investment properties, and primary residences. They also manage a large selection of vacation rental homes and condominiums, with properties located oceanfront, waterfront along the channels of Cherry Grove Inlet, and within easy walking distance of the beach. Their reputation as a real estate leader, knowledge of the area and the exceptional service provided to clients and customers are the keys to their success and longevity.
CENTURY 21 Thomas can be found on the web at http://www.CENTURY21Thomas.com; or via phone at 843-249-2100.
###