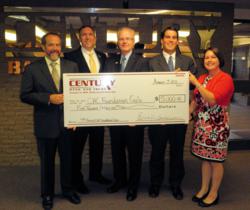 On behalf of the CHC Foundation Board of Directors and the patients and families we serve, we thank Century Bank and Trust for their commitment
Coldwater, MI (PRWEB) August 31, 2012
For the first time, the CHC Foundation Gala Committee gratefully announces that Century Bank and Trust will be the Presenting Sponsor of the 2012 CHC Foundation Gala. The 7th annual event promises a moving program honoring the 2012 Physician of the Year, great food, live entertainment, and exciting live and silent auctions.
Century Bank and Trust has been a long-time supporter of the Gala event, providing funding for entertainment since 2006. With regards to Century Bank and Trusts increased commitment, Fund Development Coordinator Terra Depew stated "On behalf of the CHC Foundation Board of Directors and the patients and families we serve, thank you for your commitment."
After the event in 2011, and in light of the challenges in the healthcare sector today, Century Bank and Trust has generously stepped up their level of support. "As a community bank, we understand the importance of having a high-quality, compassionate care organization like CHC in our community," said Eric Beckhusen, CEO of Century Bank and Trust, "We are committed to helping CHC succeed and this is one of our ways of contributing to their progress."
The event will be held on Saturday, October 6, 2012, at 6:30 p.m. at the Dearth Community Center. The evening's program will honor 2012 Physician of the Year award winner, Joudat Daoud, M.D. The Physician of the Year award is determined by a nomination from the Medical Executive Committee and a vote of the general medical staff of CHC. From serving on the CHC Foundation's Board of Directors to coaching soccer and serving other area nonprofits, Dr. Daoud has dedicated time and resources to care for our community for more than 15 years and exemplifies the Physician of the Year Award. While honoring Dr. Daoud and his accomplishments, attendees will also have the opportunity to enjoy an hors d'oeuvres buffet from Caruso's, live entertainment from Randall Hazelbaker and Delbert Walling, and exciting live and silent auction items.
The Gala is the largest fundraiser for the CHC Foundation. Last year, the event raised $33,000 to benefit the surgical department at CHC. This year, the Foundation's goal is to raise $35,000. Established in 2000, the mission of the CHC Foundation is to improve lives by ensuring quality healthcare in our community. With anticipated changes in legislation and increased community need, the CHC Foundation is a critical partner in providing care to all of Branch County.
Reservations for the event are $75 per person. Sponsorship levels are available starting at $200 (which includes two reservations and recognition in the invitation, program, and CHC Healthline) and table sponsorships are available for $750 (which includes reservations for eight and recognition in the invitation, program, and CHC Healthline). With 260 reservations last year, the Gala was sold out two weeks before the date. The committee anticipates similar response this year, so please call early for reservations. For more information or to reserve your seat, please contact Terra Depew, Fund Development Coordinator at 517-279-5414 or terrad(at)chcbc(dot)com.
Century Bank and Trust was founded in 1890, as an independent community bank. Over 120 years later, Century continues to provide a comprehensive range of corporate, trust, and retail products and services. With offices spread over Branch, St. Joseph, and Hillsdale counties, Century Bank and Trust makes its business decisions locally for the continued success of its customers. Specializing in building relationships with its customers and communities, Century focuses on long-term, multiple account relationships and customized products that fit customer needs. Within the community, Century Bank and Trust, is proud to support over 250 local charities, events, and organizations. To learn more about Century Bank and Trust, visit CenturyBankandTrust.com
The Community Health Center of Branch County is a non-profit acute care hospital providing access to safe, comprehensive, high quality healthcare services and is accredited by The Joint Commission. The CHC Foundation is a 501(c)(3) organization whose mission is to improve lives by ensuring the best healthcare for our community.
# # #