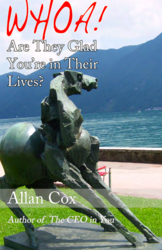 How many authors have one of their quotes featured on Starbucks cups? Not many, but Allan Cox is one of them. Our goal in the campaign was to showcase Allan, his experience, wisdom and reputation and introduce him to a new generation of readers
Dallas, TX (PRWEB) December 14, 2012
Top CEO advisor, Allan Cox, launches new e-book, "WHOA! Are They Glad You're In Their Lives?" promotion with help from the Christopher Oliver agency. The promotion involves a complimentary download of the eBook lasting from December 13, 2012 through December 17. Amazon Kindle users will be given the opportunity to receive a complimentary download "WHOA!" during that time.
"When Allan decided he wanted to move 'WHOA!' into a digital format it was because he wanted to reach an even wider audience. The book was already available in print and has been widely praised and very successful. Allan is regarded as one of the foremost thinkers in management consulting with a long track record of success and nine books under his belt. It was important that we made sure people discovering Allan for the first time understand who he really is. How many authors have one of their quotes featured on Starbucks cups? Not many, but Allan Cox is one of them. Our goal in the campaign was to showcase Allan, his experience, wisdom and reputation and introduce him to a new generation of readers that embrace digital technology.", says Christopher Oliver, digital strategist.
"The Christopher Oliver Agency is helping us to get this ebook in the hands of a wider audience. Amazon Kindle allows us to reach this long awaited wider audience and help them tap into their unique strengths, reassess where they are, whom they care about most and learn to live their lives in a more authentic way. It's a perfect gift for anyone during this holiday season. I'm thrilled to have 'WHOA!' available to readers instantly at the touch of a button. After the complimentary period 'WHOA!' will be only $9.99, which is significantly less than the printed version.", says Allan Cox, top CEO advisor and author of "WHOA! Are They Glad You're In Their Lives?".
Allan Cox advises America's CEOs, Top Teams, and Boards of Directors, to help them reach their highest levels of achievement and personal satisfaction. His problem-solving clarity focuses on facing and conquering the tough new challenges in corporate America today. To learn more about Allan Cox and "WHOA!" visit WhoaAreTheyGlad.com or allancox.com.
The Christopher Oliver interactive agency is based in Dallas Texas and specializes in digital strategy, marketing, software development and web design. For more information about the Christopher Oliver agency visit christopheroliver.com.