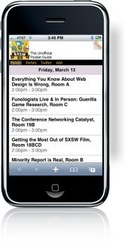 What we've built is a way to bring those communities even closer together.
Half Moon Bay, CA (PRWEB) March 12, 2009
Cerado, Inc., a provider of mobile and web-based software and services, announces the release of the SWSXi 2009 Unofficial Pocket Guide. Built with Cerado Ventana™, the new mobile application can be downloaded on mobile phones and other mobile devices. This new offering will serve as a roadmap for conference attendees to keep up with sessions, parties and other happenings at SXSW09, which kicks off this Friday, March 13, in Austin, TX. http://sxsw.com/interactive
The SXSW Interactive Festival features five days of exciting panel content and amazing parties. Attracting digital creatives as well as visionary technology entrepreneurs, the event celebrates the best minds and the brightest personalities of emerging technology.
"The conferences and events that people get really excited about are much more than simple annual get-togethers. They have strong, year-round online and in-person communities; the 'event' is just an exclamation point on a much larger movement," notes Cerado CEO & Founder, Christopher Carfi. "What we've built is a way to bring those communities even closer together."
Like last year's Pocket Guide, the 2009 version looks great on the iPhone and other mobile devices. It readily converts to a widget for a blog or start page.
What's new for 2009:
1) Users can see a current listing of all panel sessions and parties.
2) Users can add their own events to the guide, making it a truly collaborative tool.
3) Users can view Twitter feeds on SXSWi via the application.
Carfi explains what's new in his recent blog post: http://www.socialcustomer.com/2009/03/sxsw-iphone-web-app-and-widget.html
About Cerado
Founded in 2002, Cerado, Inc. creates mobile and web-based solutions that enable businesses, associations and organizations to better connect and understand their customer and member communities. Cerado Ventana™ connects customers, employees and fans with their interests, on the go or on the web. For information http://www.cerado.com.
# # #