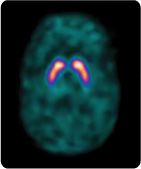 "CereScan provided me with a comprehensive diagnostic imaging report that allowed me to better diagnose and treat my patient," said Rajeev Kumar, MD, Medical Director of the Colorado Neurological Institute Movement Disorders Center in Denver
Denver, CO (PRWEB) February 07, 2012
CereScan, Denver-based brain imaging center and DaTscan Center of Excellence is the Rocky Mountain Region's first approved site for DaTscan, an FDA approved visual imaging agent that helps doctors differentiate tremors associated with Parkinsonian Syndromes from Essential Tremor. Using DaTscan, CereScan provides doctors with imaging results that substantiate or negate the existence of Parkinsonian Syndromes in their patients.
Parkinson's disease is the second most common neurodegenerative disorder behind Alzheimer's disease. Movement disorders like Parkinson's often have similar symptoms but treatments can vary significantly. As treatment for patients experiencing tremors due to Parkinsonian Syndromes, such as Parkinson's disease, multiple system atrophy and progressive supranuclear palsy, are different than treatments for Essential Tremor, DaTscan provides physicians with a diagnostic tool to assist in timely diagnosis so that appropriate treatment can be delivered.
"CereScan provided me with a comprehensive diagnostic imaging report that allowed me to better diagnose and treat my patient," said Rajeev Kumar, MD, Medical Director of the Colorado Neurological Institute Movement Disorders Center in Denver, President of the CNI Medical Advisory Board and one of the country's foremost movement disorders specialists. "As each patient is different, CereScan's diagnostic imaging helps doctors determine the most effective treatment plan, one patient at a time."
About the Colorado Neurological Institute
Colorado Neurological Institute was founded in 1988 and is a non-profit organization dedicated to serving those touched by neurological conditions. CNI arose from a significant community need that we continue to address to this day: Patients with neurological conditions often find that they do not have access to the comprehensive care, support, and resources they need. Today, CNI is the largest, most comprehensive neuroscience center in the Rocky Mountain region, with nearly 50 member physicians specializing in the neurosciences. Located on the campus of Swedish Medical Center, CNI offers programs in nearly every neurological condition, including movement disorders, brain and spinal tumors, stroke, epilepsy, traumatic brain injury, hearing disorders, multiple sclerosis, head pain, neuromuscular disorders, and more. At CNI, patients benefit from clinical research, education, neuro-rehabilitation (speech, occupational and physical therapy), navigation and social work assistance, and other services designed to meet their full range of needs. Visit http://www.TheCNI.org for more information.
About the CNI Movement Disorders Center
The CNI Movement Disorders Center is the busiest, most comprehensive movement disorders practice in the Rocky Mountain region. The center utilizes a team approach to the diagnosis and personalized treatment of movement disorders, including Parkinson's disease, Huntington's disease, essential tremor, spasticity and many other movement disorders. The Center integrates the services of neurologists, neurosurgeons, neuropsychologists, nurse practitioners, physical therapists and occupational therapists to provide coordinated and comprehensive patient care every step of the way. For more information visit http://www.TheCNI.org/movementdisorders.
About CereScan Corp.
CereScan combines state-of-the-art SPECT brain imaging technology with a patient centered model of care to provide the highest level of neurodiagnostics available. Using high definition functional brain imaging, industry leading image reconstruction software, and an extensive library of clinical data, the CereScan medical team provides physicians with unmatched objective diagnostic information. CereScan helps patients and their physicians, counselors and families to better understand the biological basis of their conditions and disorders. For more information visit http://www.cerescanimaging.com.
###