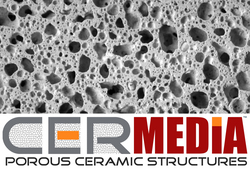 Since adding MarinePure to my system, the maintenance has decreased and my fish are doing better than ever.
Buffalo, New York (PRWEB) May 14, 2010
CerMedia announced today at Interzoo 2010 in Nürnberg, Germany, the formal international release of their revolutionary MarinePure products group. MarinePure, a high surface area inert ceramic substrate, was specifically developed by CerMedia to provide superior biofiltration for both salt and fresh water aquatic fish habitats.
MarinePure is an inert ceramic material with open flow architecture, extremely high surface area and natural wetting properties. The media's composition is similar to natural rock formations. MarinePure provides approximately 150,000 sq. ft. per cu. ft. (510 m2/l) of accessible surface area. The properties of MarinePure create a stable home for a dense population of beneficial bacteria that remove ammonia and nitrites from your aquarium. Some systems will also see a decrease in nitrates. MarinePure will work in sumps, trickle filters, wet/dry filters, and hang on the back filters or directly in the tank. It is resistant to clogging and greatly reduces tank maintenance.
About CerMedia - CerMedia, LLC is a manufacturer and technology provider of high surface area ceramic media. Media is used for various liquid and vapor biofiltration substrate. Media can also be used as a substrate for various catalytic and chemical reactions. CerMedia and MarinePure are trademarks of CerMedia, LLC.
Information on Interzoo 2010 can be found at http://www.interzoo.com.
CerMedia LLC
Contact: Richard Posa
66 River Rock Dr.
Buffalo, NY 14207, USA
716-549-6600
http://www.cermedia.com
###