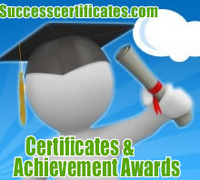 My students love the award certificates I get from Successcertificates.com. They really respond to the recognition and are proud to show it to everyone! D Clancy (Teacher, Australia)
(PRWEB) June 5, 2010
Over 250 million award certificates have been presented to students, staff and club members since Successcertificates.com released its free certificates and certificate templates in 1997.
Starting out as a site that provided teachers with certificate templates that they could download, fill in and present, it has grown to cater for business, sports clubs, parents and many other organisations. Everyday around the world thousands of people receive a SuccessCertificate.com certificate to encourage or reward them for doing something well.
According to site developer Brad Hauck, "Ever since the website started, we have been there trying to provide a resource to help people recognise the achievements of their students or staff. By using our certificate templates, it is quick and easy so people take the steps to go from thinking about rewarding someone to actually giving them a certificate!"
The site is easy to use with the certificates divided into different categories and also there is a search engine that allows you to search for a particular certificate title. Most importantly though is the range of blank certificate templates that allow you to fill in your own title, reason and name. This way if you can't find the title you're after, you can build your own in three clicks of your mouse.
For over a decade, Successcertificates.com has made the lives of teachers and students, business owners and staff, club coaches and players more rewarding and recognised. Why not reward someone today? Download a certificate now and make a difference in someones life.
###