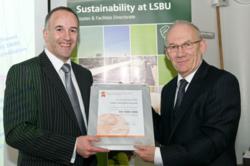 Commercial Director of Certification Europe, John Ryan said;

"This is a great achievement for the London South Bank University as they pave the way for other large organisations in the UK to address their energy and
Dublin, Ireland (PRWEB) May 29, 2011
As the Irish Government announces that €30m will be invested into improving the energy efficiency of buildings, climate change and reducing carbon footprint are hot topics. Certification Europe who assess organisations against best international practice have just awarded London South Bank University with the Energy Management Certification EN 16001 and the Environmental Management Certification ISO 14001.
Irish owned company, Certification Europe celebrate the completion of a certifying process with the London South Bank University. Having entered a competitive tendering process, Certification Europe were up against some of the UK's largest certifying bodies, but it was their plethora of experience in energy and environmental management sector across the world that secured the contract for them.
Energy and Environment Manager at London South Bank University, Anuj Saush commented;
"As a University we owe a duty of care to our staff and students and so we explored the ways we could reduce our carbon footprint. We wanted to work with a company who had a deep insight into the complexities of energy and environment management, Certification Europe stood out to us because of their extensive experience in these areas."
The London South Bank University were audited and awarded the Energy Management Certification EN 16001, a newly developed European standard which provides a framework for energy management best practice to help organisations to improve their energy efficiency. The London South Bank University were also awarded the Environmental Management Certification ISO 14001 an internationally recognised environmental standard which helps organisations to prevent pollution, minimise environmental footprint and conform to environmental legislation.
Saush added;
"Because the University is growing in student size every year we have to acknowledge the impact on the environment so achieving these certificates has been a huge feat for us. It is early days since we have achieved the certification however we have already seen a reduction of 2.5% in our electricity use in the last 8 months. We are confident that with a robust energy management strategy and system in place we will continue with this downward trend."
There is cause for double celebration as the London South Bank University are the first University in the UK to have achieved the EN 16001 with an accredited certification body.
Speaking at today's announcement, Commercial Director of Certification Europe, John Ryan said;
"This is a great achievement for the London South Bank University as they pave the way for other large organisations in the UK to address their energy and environmental standards. In particular the EN 16001 award allows the University to continually improve their internal energy programmes and most crucially will reduce their carbon footprint."
Since issuing the world's first EN 16001 certificate in 2009, this Irish founded company have awarded over 17 Energy Management Certifications and stress that this certification is under increasing demand. Ryan added;
"As the marketplace becomes ever more competitive, companies are under pressure to prove their corporate credibility and so must meet the international standards. We understand the environmental problems and legislative challenges facing businesses today and so we are uniquely positioned to assess them thoroughly against best practice. "
PHOTO CAPTION
Pictured at today's announcement [L-R] John Ryan, Commercial Director Certification Europe and Professor Martin Earwicker, Vice Chancellor, London South Bank University.
NOTE TO EDITOR
Certification Europe provides certification and training services in the fields of Quality Management (ISO 9001), Environmental Management (ISO 14001), Health & Safety (OHAS 18001), IT Service Management (ISO 20000-1), Information Security (ISO 27001) and Energy Management (I EN 16001, ISO 50001). Those certifications are critical to companies seeking every possible advantage in markets that have become increasingly competitive as consumers tighten their belts and seek trust and risk management in the companies they want to do business with.
Ends
For Further Information Contact
Ciaran O'Malley
Certification Europe
Tel: +353 (0) 1 642 9300
Mob: +353 (0) 87 8772140
ciaranomalley(at)certificationeurope(dot)com
For Media Enquiries Contact
Gillian Breen
Merrion BD
Tel: +353 (0) 1 6853450
Mob: +353 (0) 87 1777820
gillian.breen(at)merrionbd(dot)ie
###