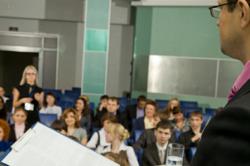 Los Angeles, CA (PRWEB) August 16, 2012
The National Financial Educators Councils' Certified Financial Education Instructor (CFEI) fall training begins on September 18th. This program provides those interested in teaching financial literacy the tools, training and knowledge necessary to improve their effectiveness as a financial educator.
The NFEC's train-the-trainer course has identified the subject matter that is important to delivering impactful financial literacy instruction, including: the psychological aspects of money, knowledge of personal financial matters, curriculum delivery, creating a memorable student experience, developing measurements that quantify a program's success and bridging core education standards with real world usability.
The CFEI training program has been approved by the Certified Financial Planning Board of Standards (CFP Board) for 4 hours of general continuing education credits. The teaching personal finance coursework is also delivered statewide through Pennsylvania through the NFEC's partner Penn State Erie, the Behrend Campus as a part of the Financial EduNation Campaign.
The Certified Financial Education Instructor Coursework is designed for those that want to teach any age of participants – from young kids to adults. Special breakout training sessions will be available for those that want added training for kids, teens and adults.
The NFEC will deliver the Certified Financial Education Instructor training course on a new platform. The fall 2012 course will be delivered on a live, virtual-streaming, video format. Participants will watch the various instructors teach the subject matter on the live-streaming video. The online training platform also features interactive experiences, live feedback and multimedia learning tools for the participants.
The CFEI training provides training on various money management topics with the stated objective on helping graduates feel confident and possess the skills to teach personal finance effectively. "Our graduates leave with a passion and excitement to teach money management while utilizing the tips they picked up in the course. It's great hearing their feedback and knowing this course not only helping the instructor but everyone they reach as well," states Cecile Abad of the NFEC.
The National Financial Educators Councils' Certified Financial Education Instructor training program provides free personal finance training and material. Through collaborative efforts across the country, the NFEC is helping to improve the financial capability of our nation's youth with the various material and training programs offered as part of the Financial EduNation Campaign. The complimentary financial literacy materials provided to people globally are made available according to the NFEC's social enterprise business model, which provides free personal finance products or training for every service purchased.