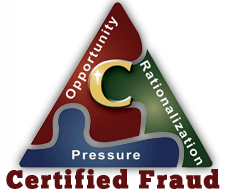 CFFI is dedicated to protecting individuals and companies against fraud, white-collar crime, and other forms of financial exploitation.
Indianapolis, IN (PRWEB) June 19, 2013
With fraud and identity theft costing consumers millions of dollars annually, Certified Fraud & Forensic Investigations just unveiled new services to help Indiana-area businesses and organizations combat these criminal practices. CFFI is now offering fraud-awareness training to retail establishments, homeowner associations, and other groups to help them prevent and detect fraud.
Director of Investigations for CFFI and private investigator Michael R. Hathaway sees the fallout every day from fraudulent practices. "No one ever planned to have their life savings stolen away or their credit unfairly destroyed," he said. "It has been reported that 15 million United States residents have their identities used fraudulently each year with financial losses totaling upward of $50 billion. The financial ruin and personal embarrassment of falling prey to one of these schemes is far too great of a risk to ignore."
Anti-Fraud Services for Retail
Hathaway believes that training will benefit retail establishments by enhancing employees' awareness and ability to spot fraud and identity theft tactics. The training will focus on three areas:

Credit card and check fraud
Cashier awareness training
Retail theft
Homeowner Association Training to Deter Home Burglaries
CFFI also offers classes for HOAs. These one-to-two-hour sessions will target the topic of physical security training and awareness and will include instruction on proper key control, locks, garage door protocol, alarm systems, and camera/video surveillance. The HOA training will also cover the topic of identity theft, especially as it relates to keeping mail, documents, and computers secure.
Other Groups
Hathaway emphasizes that CFFI can also provide anti-fraud training to other groups interested in shoring up their organizations' security. "We are able to customize our training to your specific training needs," he said.
Erik Eads, an IMPD fraud investigator who is also on staff with CFFI, will conduct the training. He specializes in financial crimes, identity theft, and retail and point of sale fraud. Eads was recently featured on a WTHR video and news story for his work in helping uncover local credit card fraud.
About Certified Fraud and Forensic Investigations
Based out of Indianapolis, Indiana Certified Fraud and Forensic Investigations is a business with integrity that embraces its mission "to utilize our God-given accounting and investigation skills to follow the facts, reveal the truth, and protect the financial interests of the individuals and companies who confide in us." It specializes in forensic accounting, private investigations, and computer forensics. Information on the company can be found at http://www.wecatchfraud.com.