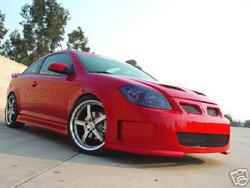 We know that customers spend significant time researching vehicles online. We are reinventing and bridging the next logical step by matching what the customer has researched with available vehicles nationwide, all at a tremendous value
Plainfield, Indiana (PRWEB) March 4, 2009
Shopping for the perfect certified car with all the right features and an unbeatable price just got easier. Value conscious consumers and automotive enthusiasts looking to find or create their perfect wholesale car can now have it delivered exactly the way they want it at Build Your Ride.
The new organization Build Your Ride helps consumers find quality pre-owned vehicles, have them personalized with the technologies and appearance features they want, and purchase everything through a vehicle dealer at a wholesale price.
Build Your Ride purchases low mileage executive-driven company cars and quality off-lease vehicles directly from the automobile manufacturers. "We know that customers spend significant time researching vehicles online. We are reinventing and bridging the next logical step by matching what the customer has researched with available vehicles nationwide, all at a tremendous value," said Michael Schwartz, president of Build Your Ride.
Build Your Ride first asks customers what type and model vehicle interests them. A search of the certified car database, which includes more than 10,500 vehicles, is performed and vehicles that match the customers' wishes are identified. "Because vehicles are purchased directly from the vehicle manufacturers, we are able to offer the best selection, quality, value and prices in the business," added Schwartz.
For customers who want a personalized wholesale car, Build Your Ride installs vehicle accessories and state-of-the-art technology upgrades including rear DVD players, body kits, wheels, tires, window tint, cold air intakes, cat-back exhausts, iPods/MP3 Integration, navigation, Bluetooth and more. Only the highest quality, certified accessories are installed from reputable companies including Pioneer Electronics, ESCORT radar detectors, Razzi Ground Effects, CORSA, Borla and Magnaflow Performance exhaust, American Racing, Weld Wheel, Dale Earnhardt Jr., Motegi, Goodyear, Michelin and Kumho. All accessory warranties apply.
"Buying a vehicle from Build Your Ride was almost as easy as ordering electronics through Amazon," said Pat W. from Canton, Mich. "I bought a Ford Escape XLT with the options I wanted and saved over $2,300. The Escape was inspected by a certified mechanic and delivered right to my door looking fantastic. The entire process of selecting and getting my wholesale car could not have been easier."
Build Your Ride recently earned the distinction of being an Accredited Business through the Better Business Bureau (BBB). Only those companies that hold customer service and honesty in the highest regard - and provide a great customer experience - are eligible for this distinction.
"I purchased a 2008 Envoy for $4,200 less than other Envoys I was shopping. I then had Build Your Ride add an iPod wire, Denali grille, 20-inch wheels and window tint. Now my Envoy is perfect for me. I also have the peace of mind with the remaining factory warranty on the vehicle," said Amy W., a school teacher from Greenfield, Ind. "In the past, a customer would purchase a vehicle and then write a sizeable check to add accessories, such as Rear DVD player or 20-inch wheels. With Build Your Ride, the customer selects the technologies and accessories up front, which rolls the expense into their monthly payment. We have had customers pay $25 extra a month in their payment to get the exact features they wanted, instead of $2,100 out of their pocket," added Schwartz.
In addition to upfitting vehicles, consumers can purchase one of the company's special edition cars, trucks and SUVs built with the most popular appearance and technology products. These certified cars are showcased on http://www.BuildYourRideUSA.com.
"With the uncertainty in the marketplace and challenging economy, we see many customers who are looking to save money by purchasing a pre-owned vehicle. Now they can buy that same vehicle with all the features they want, for much less than buying new, and with no compromises," explained Schwartz.
For customers wanting to find and build their certified car today, they can visit the company's Web site and get an unbeatable value on their stock or personalized wholesale car.
About Build Your Ride
Build Your Ride is a Better Business Bureau Accredited business, and matches customers to the exact stock or personalized vehicles they desire. Build Your Ride is a leading manufacturer of personalized pre-owned vehicles for individual consumers, installing the latest technology and appearance products available at an unbeatable value. The company is headquartered in Plainfield, Indiana and serves customers throughout North America.
###