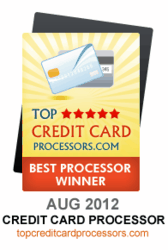 This recognition is confirmation, and it's a wonderful tribute to our team, and the great work they do.
Carrollton, Texas (PRWEB) August 14, 2012
Certified Payment Processing (CPP) has been named one of the Top Thirty Credit Card Processors by topcreditcardprocessors.com, an independent authority on credit card processors. Eligibility is based on merchant service providers that provide a full range of payment processing solutions to businesses.
According to topcreditcardprocessors.com, five areas are thoroughly evaluated to compare companies. The areas include confirmed achievements in automation, customer service, volume, reliability, and stability. Time is spent connecting with the credit card processing company's customers to get feedback on the services provided. Specifically, the customers are contacted to discuss the overall performance and reliability of the service, their communication with the company's customer service, and other aspects of service.
According to the their website, topcreditcardprocessors.com "aims to discover and highlight the best card processing and merchant service providers available. This process involves various stages of market analysis, service evaluations, comparisons and contrast reports. Our team has created a set evaluation criteria for each of the types of processors which we evaluate to assist us in their assessment. Furthermore, we offer our evaluation criteria for customers of credit card processors to compare various card processors to help them find the right processor for their specific needs."
The companies included in the list of best credit card processors have proven they are proficient in offering an array of credit card processing services. Certified Payment Processing offers merchants payment processing equipment to provide their customers with the convenience and flexibility of the most popular payment methods. This includes terminals and peripherals that will process all forms of payment transactions—credit and debit cards, checks, gift cards—quickly and securely. CPP's newest terminal, the Proxima, is also capable of handling contactless and mobile wallet payments.
And CPP's equipment comes with a lifetime warrantee, exceptional customer service (available 24/7/365) and free supplies. To insure that customer transactions are secure and business data is protected, all CPP products meet and exceed the latest security standards outlined by the payment processing industry (PCI Compliance).
"CPP is a great company," say Tony Norrie, General Manager of CPP. "Our history of growth and success is a testimony to the kind of service we provide to our more than 40,000 merchant clients. This recognition is confirmation, and it's a wonderful tribute to our team, and the great work they do."
CPP's goal is to help businesses increase revenue, control costs, improve efficiency, enhance data security and provide their customers with the most popular payment methods.
About topcreditcardprocessors.com
The independent authority on credit card processing, topcreditcardprocessors.com is a research firm dedicated to identifying and ranking the best credit card processors in the United States. These payment service providers are able to provide national services with flexible payment terms and service offerings for small, medium, or enterprise businesses.
About Certified Payment Processing
Certified Payment Processing, L.P. (CPP) has been a leader in the industry for more than 20 years, and has hundreds of dedicated sales consultants in the field throughout the country, supported by 300+ office employees headquartered in Carrollton, Texas. With two direct sales divisions –TransTech Merchant Group and Summit Merchant Solutions – CPP has more than 40,000 active merchants and annual transaction volume in excess of $3 billion. Those interested in learning more about career opportunities at CPP are encouraged to visit the career site.
# # #