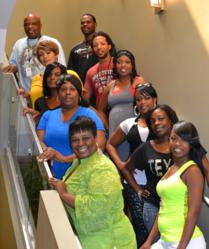 They want a career, and they are willing to put forth the effort. We created this program to let them know that we are there to help them make it happen. Everybody wins.
Carrollton, TX (PRWEB) July 17, 2012
Certified Payment Processing (CPP) has launched the AP Star Program, an internal career development program for their Appointment Planner (AP)/call center staff. The new program is open only to call center staff who met certain qualifications, including 90 days of employment, consistent fulfillment of key performance metrics (number of calls, number of appointments set and validation of calls), and approval by their immediate Supervisor. Each person interested is required to submit an application and go through an interview process. Of the twenty-five who applied for the first cycle of the new program, fifteen participated in the interview process and eleven were chosen.
"Becoming an AP Star is not a promotion," says Michelle Logan, CPP's Director of Learning and Development. "It's a voluntary learning opportunity for those interested in enhancing their professional and business skills and contributing to the overall success of our team. The fact that there was an overwhelming interest says that these people are interested in professional development and advancing their career here at CPP."
The new initiative, which was rolled out in early July, is a three-month program designed to:

Increase departmental, business and industry knowledge
Enrich and broaden the existing skill set
Acquire new skills required for growth and progression
Build interdepartmental and business relationships
Retain good employees
Drive business strategies
Cultivate a professional environment, with high performance standards
Recognize initiative, contribution and success
Those who were chosen as the first AP Stars are: Paula Biggurs, Jerrod Chappel, Quinita Harris, Latora Henderson, Sherdena Jackson, Byron Johnson, Sheila Jones, Jameicha Linwood, Vesha Manning, Tigist Solomon and Sal Washington.
The AP Stars will be required to maintain their performance standards and will attend scheduled training and program-specific activities. They will also meet with each department head to learn more of how other departments operate in the company and how they are inter-related.
"I applaud the initiative of these individuals," say Kirk Mann, General Manager of CPP. "They have shown they want more than a job. They want a career, and they are willing to put forth the effort. We created this program to let them know that we are there to help them make it happen. Everybody wins."
CPP is a provider of credit card processing services and also leases point-of-sale terminals that quickly process all forms of payments: debit and credit card transactions, gift cards and checks. The products and services are designed to help businesses increase revenue, control costs, improve efficiency, enhance data security and provide their customers with the most popular payment methods.
# # #
About Certified Payment Processing
Certified Payment Processing, L.P. (CPP) has been a leader in the industry for more than 20 years, and has hundreds of dedicated sales consultants in the field throughout the country, supported by 300+ office employees headquartered in Carrollton, Texas. With three direct sales divisions –TransTech Merchant Group, Summit Merchant Solutions and ISIS Direct – CPP has more than 40,000 active merchants and annual transaction volume in excess of $3 billion. Those interested in learning more about career opportunities at CPP are encouraged to visit the career site.