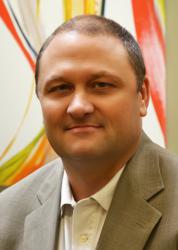 He has a proven record as a trainer and in sales, so his skills, industry knowledge and expertise will be beneficial to our new team members.
Carrollton, Texas (PRWEB) July 19, 2012
Certified Payment Processing (CPP) has hired Richard Hayes as Corporate Trainer to join the professional development team. This is part of CPP's continuing emphasis on providing professional development for team members.
In this position, Hayes will assist in the facilitation, and development of all CPP training initiatives, as well as curriculum development covering areas such as sales and product services, management and career development. He will provide new employees with pertinent information and systems training as part of their on-boarding. He will also assist in tracking of all training
"We are glad to welcome Richard back to the CPP family," says Michelle Logan, Director of Learning and Development at CPP. "He has a proven record as a trainer and in sales, so his skills, industry knowledge and expertise will be beneficial to our new team members."
Hayes was part of the CPP team for two years, back in 2005, and this marks his return as a trainer. He has worked in sales management for Car Toys, Inc and business development for DSI Systems. He was also a Regional Sales Trainer for Time-Warner.
"We're committed to providing our team with the tools they need to become successful," says Kirk Mann, CPP's General Manager. "We want to start them off right with the best introductory training. Then, we want to have a wide array of on-going educational opportunities to keep them informed, engaged and advancing in their career."
Hayes is a member of the National and Dallas chapter of the American Society for Training and Development. He is working to become a Certified Professional in Learning and Performance (CPLP). He studied Business Administration at the University of Texas at Arlington.
CPP is a provider of credit card processing services and also leases point-of-sale terminals that quickly process all forms of payments: debit and credit card transactions, gift cards and checks. The products and services are designed to help businesses increase revenue, control costs, improve efficiency, enhance data security and provide their customers with the most popular payment methods.
# # #
About Certified Payment Processing
Certified Payment Processing, L.P. (CPP) has been a leader in the industry for more than 20 years, and has hundreds of dedicated sales consultants in the field throughout the country, supported by 300+ office employees headquartered in Carrollton, Texas. With three direct sales divisions –TransTech Merchant Group, Summit Merchant Solutions and ISIS Direct – CPP has more than 40,000 active merchants and annual transaction volume in excess of $3 billion. Those interested in learning more about career opportunities at CPP are encouraged to visit the career site.