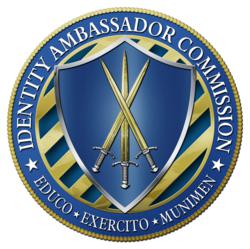 Industry secrets everyone should know. Ignore at your peril.
- Marc Kramer, Forbes.com
Bellevue, WA (PRWEB) September 16, 2011
Identity Ambassador Commission has been protecting American consumers from identity theft through education and training for many years, and the addition of the Certified Identity Expert (CIE) course and designation was a natural progression of this outreach initiative. Now, citizens throughout the country will be able to experience valuable, free identity theft training by top industry professionals.
"Identity theft, data breaches and cyberattacks are increasing at an alarming rate. The negative impact on our economy is staggering, and it is tearing apart our social fiber. The Identity Ambassador Commission listened to the public's concerns and responded with free, nationwide identity theft training with the intent to eradicate identity theft. The engines for this ambitious goal are our specially-trained Certified Identity Experts who empower citizens to protect themselves" stated Denis G. Kelly, CIE, Chairman of the Identity Ambassador Commission.
According to Gallup, Identity Theft is American's top-rated crime concern. The Identity Ambassador Commission developed the CIE course based on its F.A.C.T.S. principle: all identity theft training must be Free. Accurate. Current. Transparent. Shared. The CIE is a rigorous training course with a high testing standard. All CIEs are required to abide by a strict Code of Ethics.
Upon successful completion of the course, CIEs become:

Correspondents of The ID Channel, the industry's only comprehensive and timely resource of identity theft news and information.
Members of the Identity Professional Resource Center, the most extensive aggregation of industry intelligence containing over 10,000 pages of hard-to-find, identity-related documents.
Ambassadors of ID Cuffs, which is the gold standard of identity theft protection services. Only CIEs are authorized to market this service.
"I am excited to be part of the Identity Ambassador Commission because I have witnessed first-hand the tremendous pain identity theft causes both individuals and families. There is a lack of credible information, and the Certified Identity Expert training programs fill this gap. It is rewarding to hear how many people we have helped by simply providing accurate information and targeted defense tactics" stated Calvin Shaw, CIE, Northwest Regional Manager, Identity Ambassador Commission.
"The Certified Identity Expert program was originally designed for lawyers, brokers, accountants, mortgage bankers and financial planners. A CIE designation is a requirement for professionals in fields with an affinity to 'identities'. In this new, digital world, it is impossible to adequately service your clients if you do not understand how to protect their identities. Additionally, the free, identity theft training programs for the public are excellent business development opportunities" stated John Trautman, President, Identity Ambassador Commission.
Professionals interested in learning more about the Identity Ambassador Commission's Certified Identity Expert designation, can visit https://www.IdentityAmbassadorCommission.org, call 866.938.4035 or email Info(at)IdentityAC(dot)com. Media and training requests use the same contact information.
###