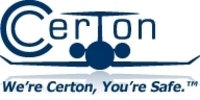 "It was a pleasure meeting you at our Regional Meeting last week, I very much enjoyed our dinner together. We are very much looking forward to having CERTON Software, Inc. join us." - Marion Blakey, President & CEO of AIA
Melbourne Beach, FL (PRWEB) September 23, 2010
CERTON is pleased to be accepted as Full Members into the Aerospace Industries Association (AIA) and honored to be in attendance for National Aerospace Week. This included the March to the Hill to meet with Members of Congress in Washington D.C and discuss some very important and high priority topics for Brevard County, Florida's Space Coast, and the aerospace industry in general. These topics included reinstating the US R&D tax credit, modernizing the ITAR control policies and procedures to create a streamlined checklist for compliance, as well as discussions on the future of government and commercial space programs.
CERTON, represented by Timothy Stockton, Chris Marot, Henry Klautsch, and Matt Lawson, also had the distinguished opportunity to meet privately with US. Congressman Bill Posey, who graciously devoted an hour of his time to answering some tough questions related to America's outlook. It is clear Bill Posey provides unparalleled support for NASA and the Space Coast as he reinforced the numerous benefits afforded to Americans every day as a direct result of our country's space exploration programs.
CERTON participated in several other events while in D.C., including golf at Andrews AFB and the presentation of the Wings of Liberty Award to Representative Norman D. Dicks (D-Washington) in recognition of his longtime support of the aerospace and defense industry. There were several keynote speakers in attendance as well, including Ray LaHood (Secretary of Transportation), Richard Aboulafia, Cord Sterling (AIA Legislative Department), and Marshall Larsen (CEO and Chairman of the Board at Goodrich Corporation). Timothy Stockton, President & CEO at CERTON, had the privilege of sitting at the head table with Marshall Larsen and Marion Blakey, among other executives in attendance at the reception dinner on the last night of the event. It was a great week and CERTON looks forward to staying involved with making a positive difference in the aerospace industry.
For more information, please contact CERTON directly at media(at)certon(dot)com.
###